Chair of the Health Select Committee visits people we support in Totnes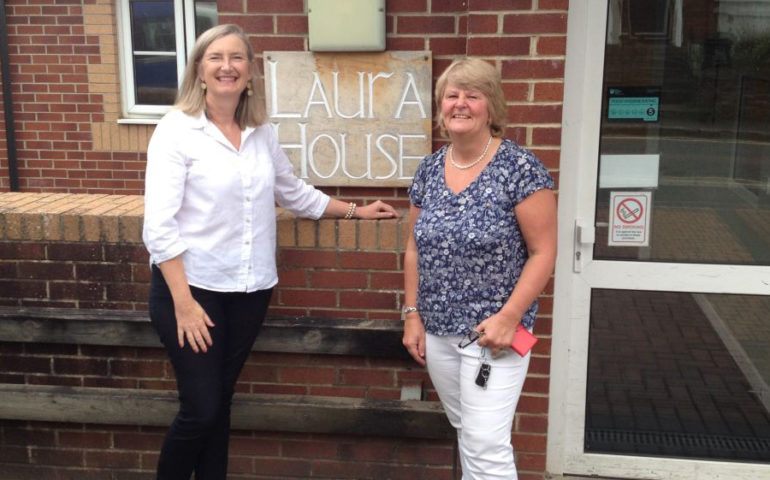 Yesterday, local MP and Chair of the House of Commons Health Select Committee, Dr Sarah Wollaston, came to visit people we support in the picturesque Devon market town of Totnes.
Nestled among the historic hillside terraces and in the shadow of Totnes Castle is Laura House, a modern purpose-built home for people we support in the centre of the local community.
United Response supports 12 people to live at Laura House, some with very complex and high dependency needs, but all of whom live active lives in and around the local area. We wanted to show Dr Wollaston just what can be achieved for people with complex needs whose behaviour may also be challenging. With the right support from our dedicated staff, we're pleased to say that the residents of Laura house live happy and fulfilled lives.
Meeting people we support
Dr Wollaston was shown around by Service Manager, Rachael and Senior Area Manager, Therese. There are three separate homes within Laura House, and people we support from each of the residences said "hello" and chatted to Dr Wollaston as they finished up breakfast and prepared for the day ahead; looking forward to activities which ranged from seeing the animals at the local garden centre, to going out for hydrotherapy classes.
As a local GP for the area, Dr Wollaston was fully aware of the range of health needs which many people we support have, and she chatted to our staff about day-to-day care, meeting medical needs at home as far as possible (rather than in clinics or hospital) and some of the challenges faced by providers of good, round-the-clock social care.
Importance of overnight care
In particular we talked about the importance of overnight care. At Laura House we always have two staff on duty and awake (a 'waking night' shift) to make sure people we support are safe and cared for. There is also always one additional staff member, who 'sleeps-in' at Laura House overnight, ready to support the two waking-night staff in the event of an emergency. However well we care for people we support, there can often be be medical emergencies in the night because of their complex health needs.
If, for example, someone we support suffers an epileptic fit in the night, the staff member who sleeps in is ready to wake up and support their colleagues to provide proper care and link up with the ambulance service. Often this 'sleep-in' member of staff will wake to accompany the person who is unwell in an ambulance to hospital for treatment, so as to be a familiar face and to help with communication and reassurance, while the waking night staff remain home to make sure the rest of the people we support are safe.
All of our staff are committed to their work and to caring for the residents, and Dr Wollaston understood the level of dedication needed to help care for people we support 24 hours a day. Yesterday we asked Dr Wollaston to talk to the Government on our behalf about the particular issue of funding for overnight 'sleep-in' care in the learning disability sector.
The law is still not clear on sleep-ins
For the dedicated staff who do vital 'sleep-in' shifts, the law is still not clear on the rate of pay for this overnight care because of a recent Court of Appeal ruling. We asked Dr Wollaston to speak to relevant Government Ministers to ask them to act quickly to provide urgent clarity on pay for overnight staff, and also to provide proper funding for local authorities to pay the National Living Wage for this crucially important overnight care.
As a provider of social care, our workforce is our greatest asset. And as we showed Dr Wollaston yesterday, our staff spend their days and their nights caring and sharing lives with people we support, forming a vital link with local communities and changing lives for the better. We want the Government to recognise this dedication, and to clearly outline and fund a decent overnight wage for our staff, so that the fantastic care provided at Laura House and in many communities across the UK is properly rewarded.
Please follow @LDVoices on Twitter for updates on the #SolveSleepIns Crisis