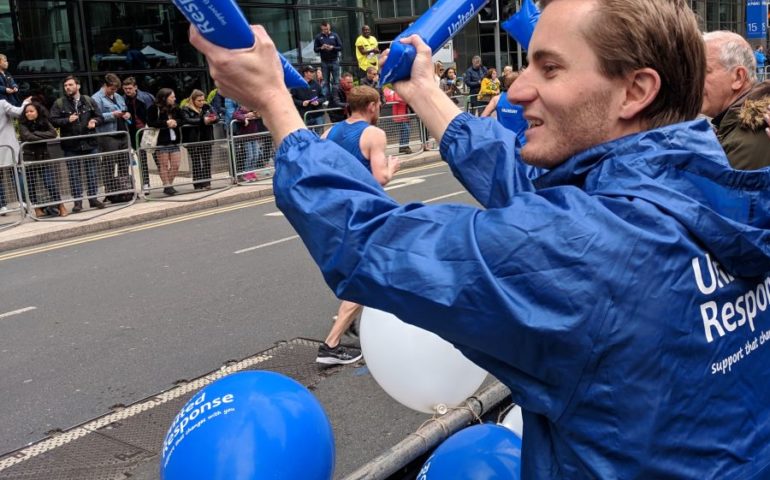 Whether you're planning to hold a jumble sale, cycle 100 miles, run a marathon or eat a whole lot of cake, we think you're a real champion!
See below for: Fundraising packs | Training toolkits | Fundraising FAQs | Our fundraising commitment
Fundraising materials
Make your fundraising event even more of a success by ordering some of our official fundraising materials.
Email: fundraising@unitedresponse.org.uk
---
Your fundraising pack
Everything you need to help you make the most of your fundraising!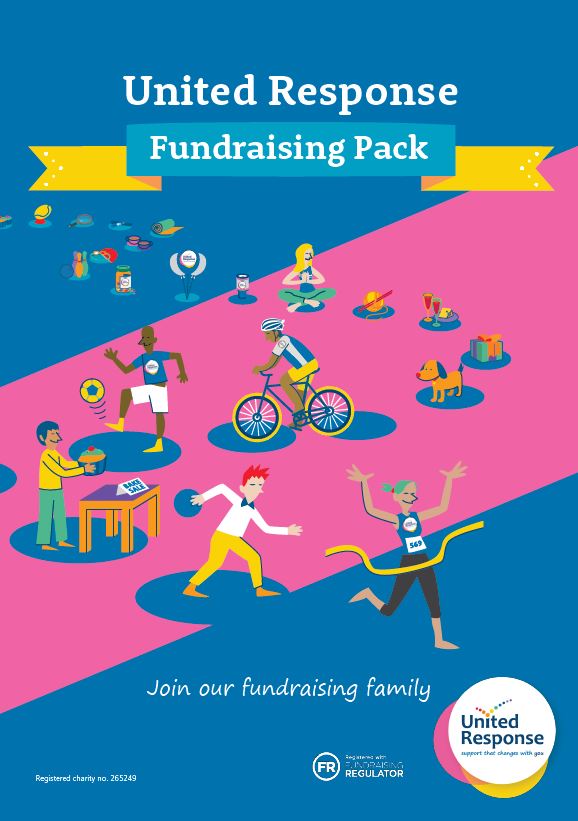 Download: Fundraising pack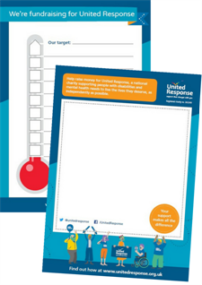 Download: Fundraising poster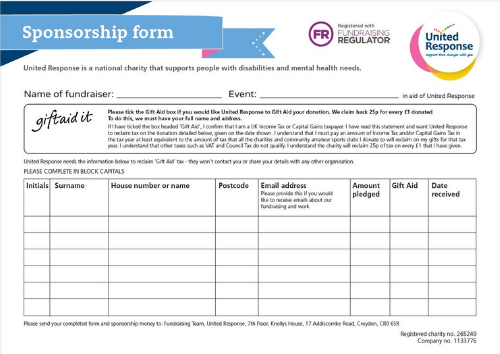 Download: Sponsorship form
---
Your training toolkit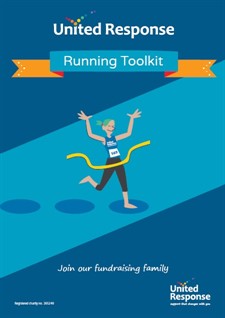 Download: Running toolkit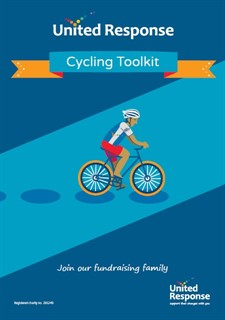 Download: Cycling toolkit
---
Fundraising FAQs
Do you have questions about fundraising for United Response? Find all the answers here.
How does my money make a difference?

Thanks to your generosity and support, we are able to run a wide range of projects and initiatives that offer the people we support a better quality of life.

For example:

£12 could pay for an hour of job coach support to help someone with autism into a job
£22 could help run a taster sign language session within the local community widening communication for many people we support
£60 could pay for tools for people we support to use on one of our horticulture projects such as Boscawen Farm in Truro, or our allotments in Bristol and Blackpool
How do I set up an online fundraising page?

You can set up a page to fundraise for United Response via Just Giving. Select 'Fundraise for us' and follow the instructions. Personalise your page with a photo and a small blurb about why you are fundraising to get your sponsorship rolling in.
How do I let United Response know about my fundraising?

The best way to let us know is by completing an Event Registration Form. Within the form you can let our Fundraising Department know more about you and the event you have planned, and also request materials and assistance from United Response. Completed forms should be sent to fundraising@unitedresponse.org.uk.
What is matched giving?

Matched giving is when your employer either matches or adds a donation to your fundraising. It's worth checking with your employer what their policy is as you could double your fundraising!
What is payroll giving?

Payroll giving is an easy way for you to give to United Response straight from your salary. As the donation comes out of your gross salary, the Government gives United Response the tax that they would otherwise have kept. In other words, it lets you give even more at no extra cost to you. Visit our easy ways to give page to start giving today.
How do I leave United Response a gift in my Will?

Please refer to our gifts in wills page for full information on leaving a gift in your will.
Can you help me advertise my fundraising event?

If you are organising a fundraising event for United Response, we can support you to get the word out. Just get in touch with us to discuss further, email: fundraising@unitedresponse.org.uk.
---
Our fundraising commitment
At United Response, we truly value the generosity of all our supporters. We ensure our fundraising activity is honest and open.
If you are considering supporting us, you can be assured that we:
will not email or call you unless you have given us permission to do so.
do not undertake any fundraising door-to-door activity.
do not ask for direct debit donations on the street.
do not sell or share your data with third parties.
do not employ call centres for fundraising purposes.
do not employ professional street fundraisers.
Our communications to you will always include information on how to opt out from future communications.
We will keep our fundraising practices under review and always look at improving the way we communicate with you.
United Response is a member of the Institute of Fundraising (IoF). We are registered with the Fundraising Regulator and abide by the Code of Fundraising Practice that they maintain to ensure that all our activities are fair and legal.