Over £15,000 raised for United Response at Truro's ROC 5k run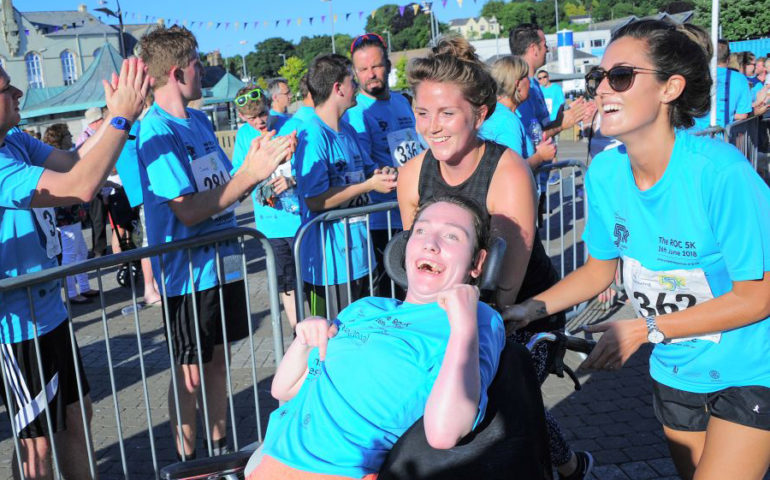 This year's 5th annual charity fun run, the ROC 5k, took place on Tuesday 26th June in Truro, and what a great evening it was. Over 400 people turned out for an amazing race to help raise vital funds for people with disabilities.
So far just over £15,600 has been raised. The money raised will go towards the United Response ROC Welcome Social Club held at Truro College where over 100 adults with learning and physical disabilities attend every week. Funds will also go towards developing IT independence for those at the Wheal Busy Chapel, in Chasewater, Truro.
People from all over Cornwall came down for the event, including people supported by United Response and their support workers.
This year we were lucky enough to have the Mayor of Truro Lindsey Southcombe start the race and Vice Lord Lieutenant Peter Davies hand out the trophies. We also had three Master of Ceremony's keeping the crowds of onlookers entertained for the evening L-R Gary Perkin, Zamu and Event Director, Daphne Skinner, BBC Cornwall and Ian Harris, Harris Begley.
A great addition this year was a small shanty singing group called Stuns'ls who are keen to keep the heritage of the sea shanty alive and they were brilliant, entertaining the crowd as we waited for the runners to return to the finish line.
Tammy McDermott from Truro and Penwith College kindly did the warm up for everyone.
Senior secretary at Truro College and running group volunteer Louise Aspinall braved the searing temperatures to compete in the race. She said: "A few years ago I got into running and eventually became a running coach.
"I ran this race to raise awareness for the charity and support people with learning disabilities.
"The ROC 5K shows that everybody can have a go and that people with learning disabilities can get involved too. It's important to include everyone and that's what makes this race so special."
Written by Regional Corporate and Community Fundraiser, Sarah Hampton
Race results Image gallery Donate
Images captured by freelance photographer Toby Weller.
A big thank you to our sponsors and volunteers who without their support there wouldn't be a 5k. Our main sponsors this year were PKF Francis Clark, Cornish Mutual and Truro and Penwith College and volunteers were from our Truro Office, South West Divisional Team, National Team, Boscawen Farm, Truro Lions Club, Rotary Club of Truro Boscawen, PKF Francis Clark, Cornish Mutual, Truro Running Club, Gary Perkin, Zamu – Gary is our Event Director, Keith Wootton Architectural Services – Keith is our Course Director, and Truro and Penwith College as well some runners who couldn't run but kindly volunteered. As always at the end of the race runners were given pasties (kindly donated by Warrens Bakery), Skinners Beer and Cornish Orchards Apple Juice – much needed by the runners!