£17,000 raised at the ROC 5K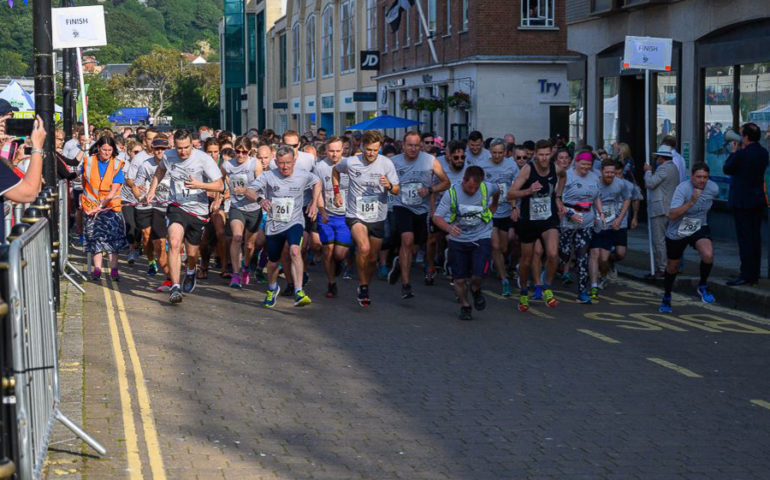 This year's annual ROC 5K, which took place last month in sunny Truro, saw almost 500 runners raise a record-breaking £17,000 between them.
The sun was shining, there were smiles all around and an electric atmosphere buzzed as everyone gathered in the town centre on the evening of Tuesday 25 June in anticipation of the start of the race. There were runners and entrants of all ages and abilities, including people supported by United Response and their support workers – all united in their goal of smashing the course and raising as much money and awareness as possible for United Response and ROC Wellbeing.
This year a number of runners took part having also competed in previous years. Holly, who attends a ROC Wellbeing Club, and Chloe were taking part for the third year running and explained why they keep coming back: "We've had an amazing day. It's really good to get the community together and everyone to raise money together as well. And of course it goes to all the local clubs, which my sister goes to, and we love donating to them!"
The event kicked off with Tammy McDermott from Truro and Penwith College leading a warm up for everyone, before the race officially began. During and after the race everyone was kept entertained by a number of musical performances from groups and individuals from the local area. Runners crossing the finishing line were greeted with a massive cheer and a 'well done' before they went to collect their celebratory pasty and beer.
Dom Haughton, who was taking part for the fifth time and works at Truro College, described the race as "a great event" and described the importance of events like this taking place: "It helps everybody come together, and it's really good to show our students that come here and take part in it every year. Anything that we can raise for United Response to help them with their cause is brilliant. Very much something the college is involved in."
We would like to say a massive thank you to everyone that took part, sponsored someone or gave up their time to help on the day. We are also incredibly grateful to all of our sponsors and volunteers who helped make the event such a wonderful, and smooth, success. Organisations who sponsored or supported the event include Bespoke IT Software, PKF Francis Clark, Cornish Mutual, Truro and Penwith College, Zamu, Vickery Holman, 3WhiteHats, Lilly Lewarne Architects, Truro Running Club, Keith Wootton Architectural Services, the Lions Club of Truro, the Rotary Club of Truro Boscawen and Acronyms.
Race results Image Gallery Donate
If you are interested in taking part next year please email events@unitedresponse.org.uk.
Alternatively if you have been inspired to do your own fundraising for United Response take a look at the fundraising section of our website here.