72-year old South London support worker pounds the pavements and goes "extra mile" to provide care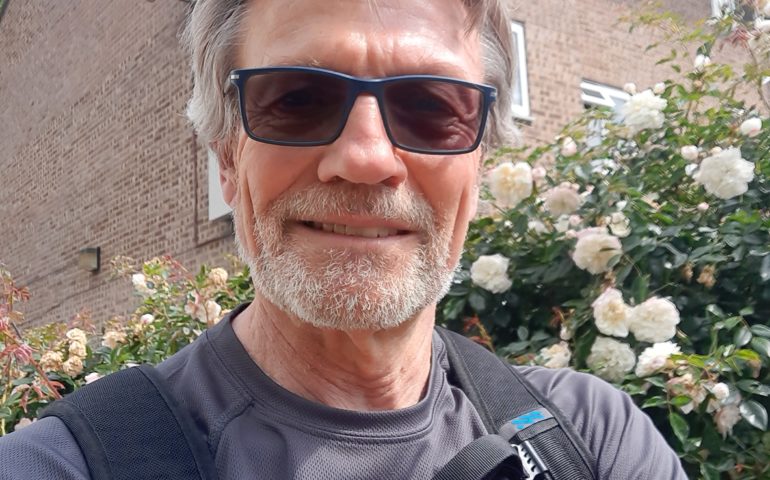 Whilst Captain Tom was walking his way to raising almost £33m pounds for the NHS, Cees Van Dijk has been pounding the pavements to rather less fanfare – eschewing public transport to reduce the risk of infection of coronavirus for himself and those he supports.
Cees turned 72 in May but is proving that you are only as old as you feel by trekking just under six miles from his home in Crystal Palace to Autumn Close, a supported living service in Wimbledon run by national learning disability charity United Response.
Occasionally even sleeping at the service, Cees has also walked the trip home after working tough shifts providing care to the six people that live at the service – which provides tailored support to those with a range of needs.
Cees, a keen hiker, began walking his commute at the start of lockdown in March and has vowed to carry on until he is certain transport is completely safe and testing for the virus has been increased. He estimates that in the first three months after lockdown beginning, he'd walked over 550km – further than if he had walked from London to Paris.
The well-travelled Dutchman, who arrived in the UK by way of Canada, Germany and Kosovo, has made his home in London and has worked at Autumn Close – which itself next year celebrates 25 years of providing support – for the last seven years.
His decision to walk to work, which takes roughly an hour and 40 minutes each way, came about after his wife suggested he do so after they were unfortunately forced to pull the plug on a trip to Rotterdam back in his native Holland as travel restrictions increased in light of the spreading virus.
Cees has showed great humility and downplays his actions, instead choosing to focus on the "fantastic" support of his colleagues and the unity of the staff team around him.
He said: "I didn't really think too much of it, it just seemed like the sensible and obvious thing to do. I work with a fantastic team at Autumn Close and we are a really tight knit bunch. We're all committed to providing the best support possible"
John Steinmetz has been the service manager at Autumn Close for 15 years and has worked alongside Cees for the entire duration of his time at United Response.
John reflected: "What Cees is doing is truly exceptional, but is in some ways not wholly surprising. The whole team do whatever they can to keep themselves safe and well and to continue to support the people living at the service, whatever that actually means. I feel very lucky to work with such a remarkable group of people, and the commitment Cees has shown at this hugely difficult time for care and support services is a tremendous example to the wider community of how brilliant people working in care really are."