'A Day to Remember' – schoolchildren's colouring competition in Richmond judged by people supported by United Response
The Enterprise originally planned to host a Remembrance Day tea-party event for local community members, but unfortunately as a result of rising Covid cases in the area this had to be cancelled. Determined not to let it dampen their spirits, Team Leader Nora and her colleagues approached local school East Sheen Primary to see if their pupils would be interested in participating in a colouring competition.
The children were asked to decorate a poppy template with whatever colours and designs they wanted, making a small donation of 50p for each entry.
With prizes up for grabs for first, second and third place of vouchers for a book or toy shop, the team of judges at The Enterprise received an abundance of colourful and imaginative entries from students ranging from Reception to Year 6.
Colour and creativity
As well as being creative, lots of the children's artwork also featured symbols of love, hope and peace.
The judging panel comprised of a group of people we support at one of their regular Wellbeing sessions run by Nora called 'What's On Your Mind?'.
Casey, Phil (aka DJ Phil), Flo and Mark, along with resident artist and head judge Emma were suitably impressed by all the entries and found it difficult to pick just three winners thanks to the quality on show.
Emma said:
I was very impressed with the level of creativity that went into the children's artwork. It was difficult to choose the winners.

The four pieces of work that we did choose were very well designed poppies. Seeing how the children had thought outside of the box was inspiring – great imaginative use of space.

For me, judging the competition at our 'What's on Your Mind?' session was a motivational team-building project, good fun too.

I like how we all took turns to speak and explain our thoughts and respected each other's viewpoints.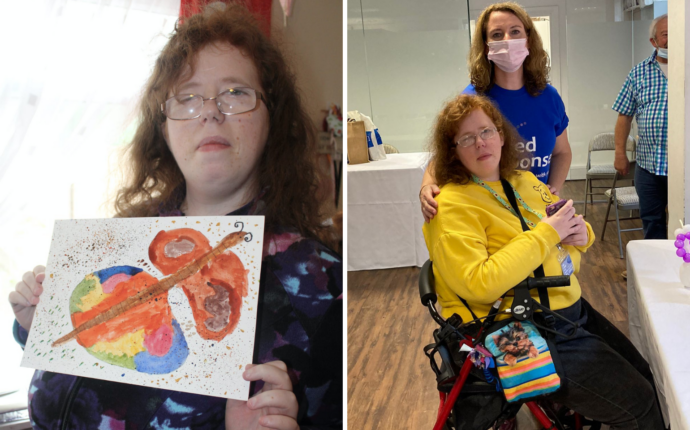 Nora added:
I think opportunities like this are so important for people we support because it strengthens their voice and shows them that their vote counts.

This is what we are trying to achieve – empowering people and reminding them that their opinions matter.

They were so dedicated to the judging process too. They really took their time as they didn't want to disappoint any of the pupils.
The winners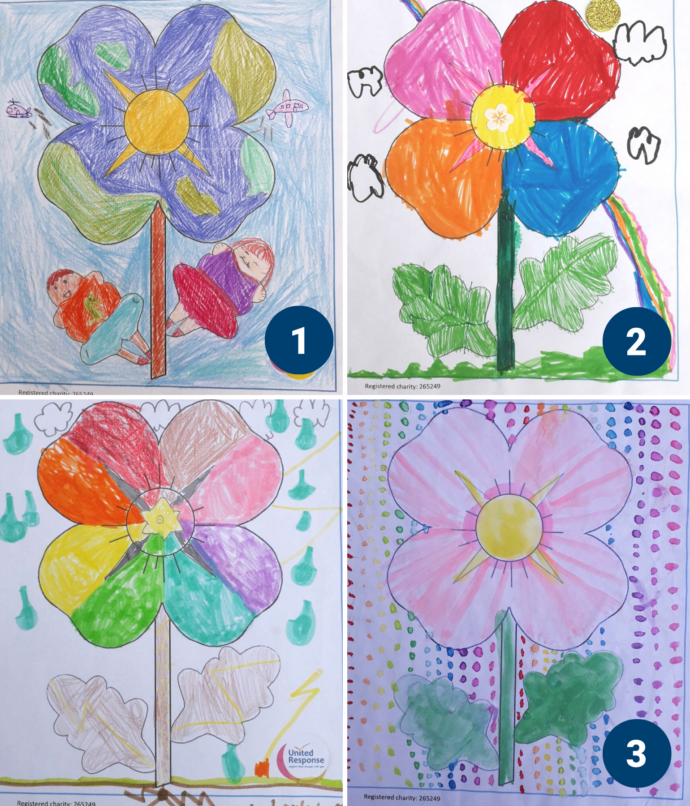 First place was awarded to Theodora, 10, whose design featuring planet earth and the sun inside the poppy, with two people as the leaves and planes flying in the sky wowed the judges.
Second place went to Derin, 6, whose range of colours, a glittery sticker sun and a rainbow in the background also impressed the panel.
There was nothing to separate the work of Kellin and Ilona, both age 7, so much so that they were awarded joint third place.
Year Two teacher and Art Lead for East Sheen, Louise Devlin said:
The children were really excited about the competition. They enjoyed it so much.

It was important to them to contribute to such an amazing charity in their local area. We are always talking about British values and had been focusing on Remembrance Day for the past month – so it all tied in very nicely.

Thank you for running such an inspiring competition – the children's eyes were tearing up when I told them they'd won. It was beautiful.
The Enterprise runs regular activities for people with learning disabilities, physical disabilities, autism and mental health needs.
Their comprehensive timetable includes sports and fitness classes, creative arts sessions and support to go out in the community for local events.