"This doesn't make me a runner, Mum": How Frances and Finn are running a marathon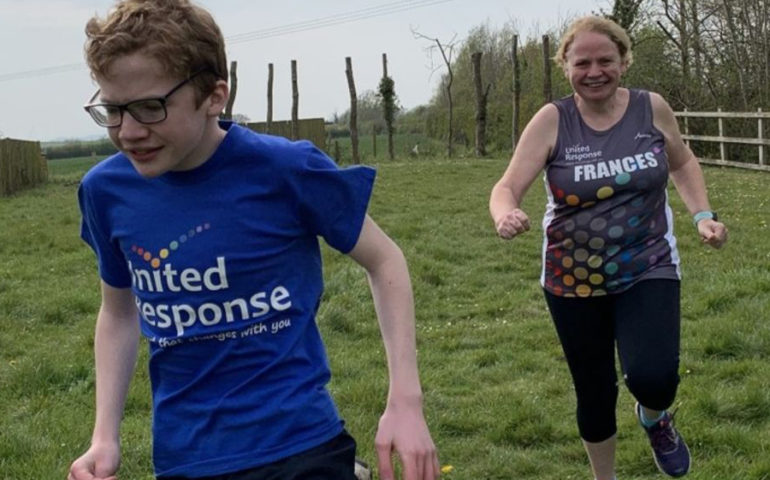 Frances, whose son Finn has a condition called Agenesis of the Corpus Callosum, is running the London Marathon. Finn is also taking part, by completing eight (and a bit) park runs.
When Finn was a baby, I remember watching the London Marathon and promising myself that one day I would do it. But with 3 young children I was too busy (and scared) to put my running shoes on. But 2 years ago, I watched the brilliant BBC series Mind Over Marathon and knew it was something I really wanted to achieve.
Being Finn's mum
Finn was born with a condition called Agenesis of the Corpus Callosum, which basically means that he doesn't have the bit (Corpus Callosum) that should connect the two halves of his brain. The way I often describe what this means is that the Corpus Callosum is a bit like the Severn Bridge. Without this bridge, it takes longer to travel from Bristol to Wales, but you can still get there.
He has what is referred to as a jagged profile, or in other words there are some things he can do and others he really struggles with. He also presents with behaviours associated with autism and has ADHD. As he grows up, these struggles become more obvious and the issues Finn faces on a social level have become more obvious since he started secondary school. At times he astounds me with what he knows, at other times I am floored by how little he understands.
Finn is also incredibly polite and caring in a way that sets him apart from the stereotypical teenager. I am unbelievably proud to be his Mum.
Choosing Team United Response
All Finn wants is to live a 'normal' life which involves a job, a home, a wife and children. But I know that Finn will need help to achieve these dreams. What people like Finn need is someone to help them, to support them, to understand them. But above all they need people to enable them to live the life they wish for and contribute positively to society.
I remember seeing the United Response website for the first time and certain phrases jumped out at me. Phrases such as "to help people with disabilities and mental health issues live full lives in the community" and "we want to create a society where everyone has equal access to the same rights and opportunities". Reading them I felt so emotional and like I was a little bit less alone than I thought I was; other people had the same aims too.
Getting Finn involved
Inspired by the work that United Response does, Finn and I have decided to embark on this challenge together. Not only will it help me reach my fundraising target, but hopefully it will give Finn a sense of achievement and the self-worth that his day-to-day experiences all too often knock out of him.
So this is what we have agreed to do: I will run the London Marathon and Finn (who is a committed non-runner) will run the equivalent distance by completing eight (and a bit) park runs. He recently completed his sixth one and beat his PB by over five minutes! After each run, he still mutters darkly that "this doesn't make me a runner, Mum".
The fundraising activities we have done have been designed to help Finn to develop skills that will help him when he leaves school. As well as asking friends and family for donations, we've also made and sold a range of crafts and chocolates – with Finn taking on the role of taste tester! The company I work for, Glasstap, have been amazing and will be donating £1000 towards our fund raising.
Preparing for the big day
After getting injured last year, I've done everything I can to follow my training plan meticulously. But I also started a few weeks early so there was contingency for illness, injury or the times when life just gets too busy. We've been very lucky with the weather which has helped. A particularly glorious day doing my 18 miler along the Gloucester & Sharpness Canal was the first moment that running a marathon suddenly felt achievable.
However, training has not been easy and on occasion I (along with others) question why I am undertaking this challenge. But I know I am one of the lucky ones. I will do the race for all the people, like Finn, who crave the normality of a life that often feels out of reach.
Show Frances and Finn your support
Donate to help Frances reach her fundraising target
Inspired to take part in your own fundraising event? It's not too late to join our RideLondon Team.