Wiltshire man celebrates anniversary of book release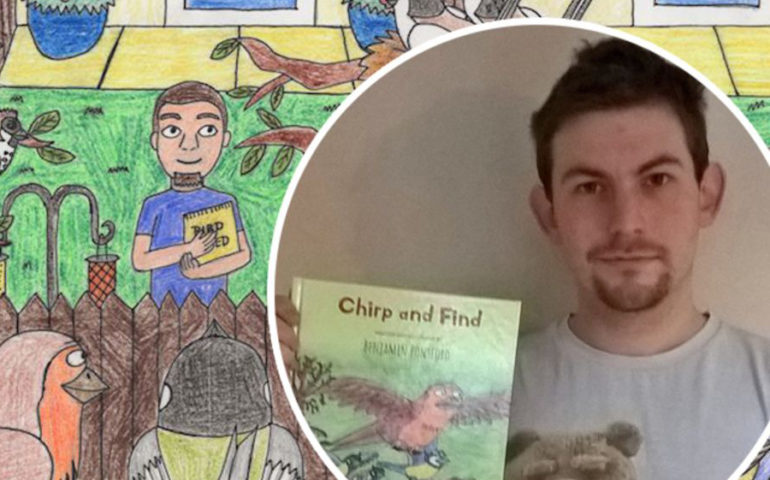 Ben, a person we support who has autism, has celebrated the one year anniversary of the release of his children's book 'Chirp and Find'.
We interviewed the author to find out what inspired him to write, and the new story he's currently planning.
How old are you and where are you from?
I'm 29, and I live in Trowbridge, Wiltshire. I've been living here for nine years, but I grew up in Bradford-on-Avon.
I wrote 'Chirp and Find' so I can inspire kids to feed birds and help save the environment
What made you want to write the book 'Chirp and Find'?
The inspiration came to me when I started feeding birds. When I saw different characteristics of different birds, the idea of the story just hit me. I've wanted to be a children's author because most kid's films start off as books, so I thought, if they can do it, I can do it.
Another reason why I wrote 'Chirp and Find' was so I can inspire kids to feed birds and help save the environment which protect the birds.
What kind of audience is the book aimed at?
For younger children, ages 5+, or maybe younger, depending on the child or parents, but it's definitely a suitable bedtime story for children.
You wrote and illustrated the book. Could you tell me about this process, and what skill came first?
I drew all the pictures by hand – I ended up having a wrist cramp after that! I did the writing first, and then I did the drawings. It's best to write it first before I could decide what happens in the pictures.
Both writing and drawing are equally important to me, although as a kid I've always been interested in drawings, and at school I used to hate writing. But now that I'm older and wiser, I'm starting to get a good sensation from writing because to me, every word is like a picture. So when I see a word, I see a picture of it in my mind.
How long did it take you to write the book?
The writing didn't take too long, about a couple of months. But the drawings took longer, about a year or so. Planning out pictures takes time, plus I had to be in the zone to get the inspiration.
I've heard you're working on a new book. Could you tell me about it?
It's about an alien princess, who's called Alexaria. She runs away from her home planet to avoid an arranged marriage. She accidentally winds up on planet earth, where she's found and befriended by a teenage boy named Craig, who lives in a foster home. And the two of them develop a strong friendship that slowly blossoms into love. I'm into romantic stories!
I'm hoping it turns into a Disney movie because that's always been my dream, to turn my stories into movies.
I just want to show everyone that autistic people can make a big difference to the world.
What other things do you like reading? Were there any big influences on this book?
I like reading adventure stories, and mostly romance. I read these children's books while writing called Beast Quest, they were good inspiration. But most of my inspiration comes from kids films and everyday life.
Do you think your autism influenced how you wrote the book?
Kind of, I just want to show everyone that autistic people can make a big difference to the world. I'm hoping that I can inspire other autistic people to start writing books. I have inspired a few people already, for example my support worker, Chris, is writing a book – I kind of inspired him.
My dad told me that I'm having a big influence on kids. I did do a book reading at a primary school where my mother used to work. They really enjoyed it. I don't know what the kids thought about doing, but hopefully I inspired enough of them to write books.
What do you do in your free time?
I work at a cafe near me as a waiter. In my free time, I like going out to places. But I mostly like watching movies and playing video games.
How do United Response support you?
They support me really well. They help me with my independence, and they reassure me when I have worries or concerns. They've helped me with my confidence as well.
---
You can buy 'Chirp and Find' online or find it in any good bookstore.
Buy 'Chirp and Find' online Find out how we support people in Wiltshire