Charity runners on their marks to register for ROC5K run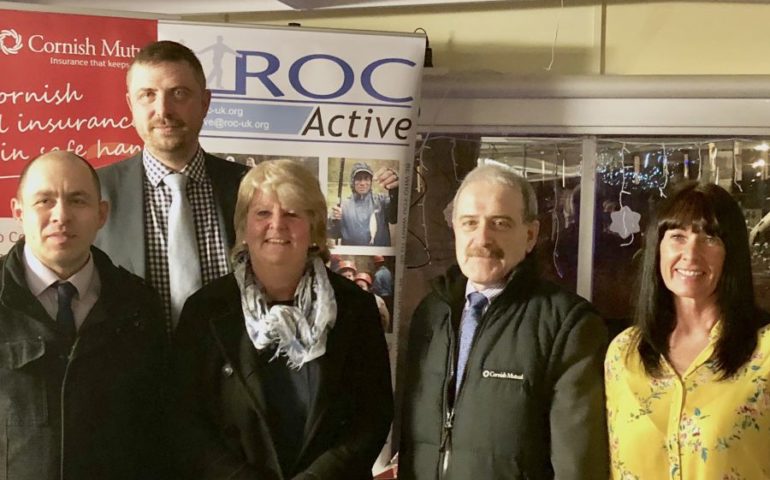 Registration to take part in a popular and yearly Cornwall charity run has opened today (Wednesday) following a special launch event at Truro's Lemon Quay yesterday evening.
This year's ROC5K run will take place on Tuesday 26 June and will raise money for the Welcome Social Club, a social inclusion service in Truro run by learning disability charity United Response.
Runners can now register to take part in the run, now in its fifth year, which will also generate funds for new IT equipment at the Wheal Busy chapel in Chasewater.
A special launch event took place on the Compton Castle café-boat in the quay on Tuesday, where details of the route and its sponsors were revealed. This year's sponsors include PKF Francis Clark, Cornish Mutual and Truro & Penwith College.
Scott Bentley, Partner at PKF Francis Clark's Truro office, said:
"We are proud to be able to fundraise for United Response once again this year. We hope our efforts will go a little way to helping ensure that more people with disabilities and mental health needs get to live the meaningful lives they deserve."
Sarah Hampton, Corporate and Community Fundraise at United Response, said:
"The ROC5K run is not only a fantastic day for those participating and watching on, but a vital part of the support we provide locally. We are looking forward to yet another incredibly popular event, where hundreds of people will have fun and raise vital funds for vulnerable people with learning and physical disabilities."
Following last year's switch to a new route, the 2018 run will return to its original course run previously. The start and finish point will remain as Truro's Lemon Quay piazza.
Those who sign up to run this year will be challenged to raise £85 each to support the costs of the ROC Welcome Social Club, where over 100 adults with learning and physical disabilities attend every week to meet new people. Fundraising will also be put towards developing IT independence for those at the Wheal Busy chapel.
Registration is highly encouraged to guarantee a place in this year's race. All abilities are welcome, but runners must be aged 11 or above.
More than 500 local people took part in last year's ROC5K, which raised £15,000 for the Welcome Social Club. A total of £53,000 has been raised since the run was first held in 2014.
For more information and to secure a spot on the grid, visit https://racebest.com/races/roc5k.
ENDS
Notes to editors:
For more information, please get in touch with the United Response press office on 0208 246 5237 or press@unitedresponse.org.uk.
ROC, formerly known as Robert Owen Communities, merged in 2017 with learning disability charity United Response.
United Response is a top 100 national charity that provides person-centred support to around 3,000 adults and young people with learning disabilities, mental health needs or physical disabilities – including some of the most vulnerable people in our society.
Our vision is a society of equal rights and access where disabled people have the opportunity to live the lives they want to lead.
We provide bespoke support, from 24-hour care to a few hours a week, at around 400 locations across England and Wales. We employ approximately 4,000 staff and are regularly recognised with awards for our innovative, high quality range of services.
To find out more about United Response, please visit: www.unitedresponse.org.uk