Charity workers mark one year anniversary of Donation Station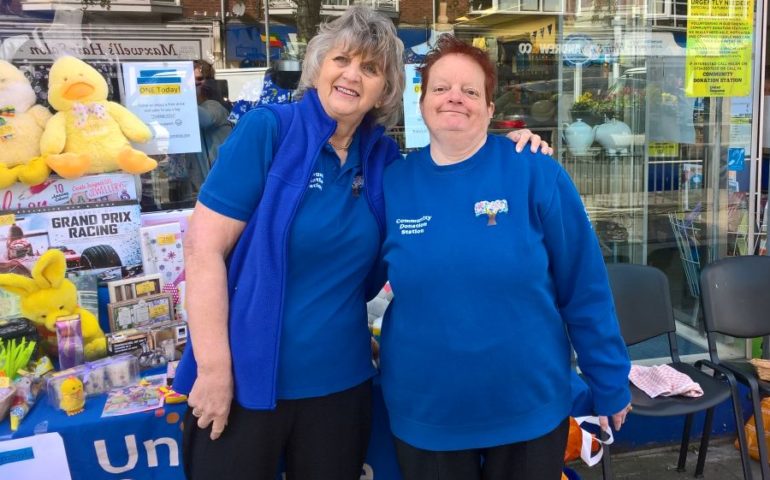 United Response charity workers are celebrating the first anniversary of their new Folkestone charity shop which helps local people with a learning disability.
The Community Donation Station, in Cheriton High Street, Folkestone, is a much-loved charity shop run by the national charity United Response which supports people with a learning disability, autism and Down syndrome. It moved to a bigger location a year ago.
It also offers work experience to local people with a learning disability, autism, anxiety disorders, communication and speech problems and also people within the community who want to give back to their community. Many of these people are among are marginalised and vulnerable in society.
The Community Donation Co-ordinator Helen Lawrence runs the Donation Station with the people that United Response support and the community volunteers.
She said: "We wanted to tackle isolation and get people involved in the heart of their local community. We have a really good community vibe here and see lots of regular customers.
"Everyone here works as a team and a lot of people are gaining new skills. It just seems to work and the community like it because we keep it accessible for disadvantaged families.
"I've seen people's confidence grow. The people we support who volunteer here are thriving and are much happier. You can sense the pride they have when they wear our uniform."
Seven people have been supported by the charity to gain work experience and learn life skills since the Donation Station relocated a year ago. Others also volunteer at the Donation Station including college students and people with mental health issues.
Staff, customers and people supported by the charity celebrated a year of success with cake and drinks on April 18th.
David Bennett from Folkestone has been volunteering at the Donation Station for nearly a year.
He said: "It has a nice atmosphere and nice people and it gets me out and about."
After a year of support from United Response staff, he is now much more independent and can travel to the charity shop alone and volunteer without support.
Graham Dray supported by United Response and volunteers on Tuesdays and Wednesdays.
He said: "I've gained work experience using the tills and working with customers. My maths skills have improved quite a bit since last year. It's given me more confidence and I enjoy it here. I get to have a bit of fun here too and a bit of banter sometimes."
Karl Mount, from Marten Road, Folkestone, initially volunteered at the Donation Station but now has a paid job as a cleaner.
He said: "The Donation Station keeps me busy. I've got a paid job now – a cleaning job at the Donation Station.
"I enjoy working and like working with the people there. I'm saving my money for my holiday!"