Cornwall support workers team up with bikers for a special birthday surprise for Derek's 60th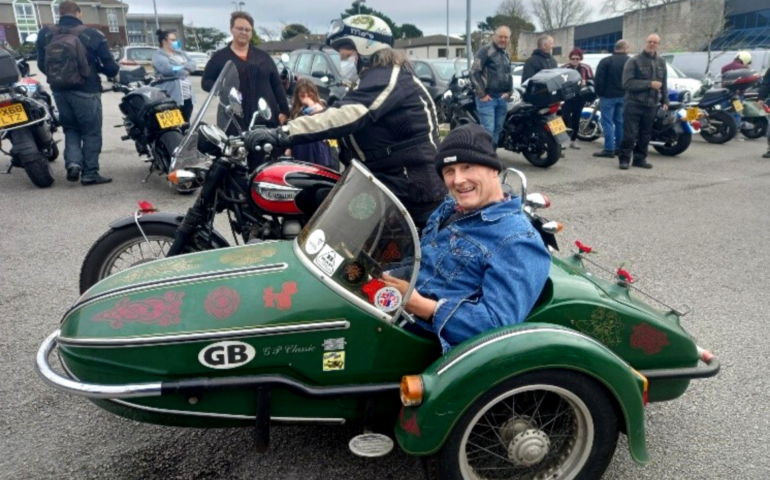 Derek has an acquired brain injury, which he sustained in a serious motorcycle accident when he was 20 years old.
With a milestone birthday coming up, his support workers wanted to do something extra special for him.
Despite the accident, Derek is still passionate about motorbikes – especially the older models.
Tanya started asking passing bikers if they knew of any local bike clubs where someone had a sidecar that Derek could ride along in.
She then decided to post on Facebook.
Rosemary, who is a member of a few motorcycle groups and lives in Saltash, heard about the idea from her friends.
She got in touch and they started to plan the trip.
As Derek has some difficulties walking, they arranged to meet up a week before his birthday to figure out the best way for him to get in and out of the sidecar.
Tanya said:
He absolutely loves motorbikes – he can tell you everything about them.

When Rosemary came, he had the biggest smile on his face. You could tell that he was going to get in there no matter what.
On the morning of his birthday, Rosemary took Derek in her sidecar to Saltash Leisure Centre, where there were 13 other bikers ready to escort him to his celebrations!
Rosemary said:
Everybody that was made aware of it wanted to join in to make it extra special so we ended up with a small procession.

We usually get called upon to celebrate people's lives when they pass away, so it was wonderful to see the joy on Derek's face.

I told him I'll do it again next year if he's up for it.
The convoy rode around Saltash, finishing at the Ashtorre Café where the bikers had arranged for refreshments including a birthday cake shaped like a bike and sidecar.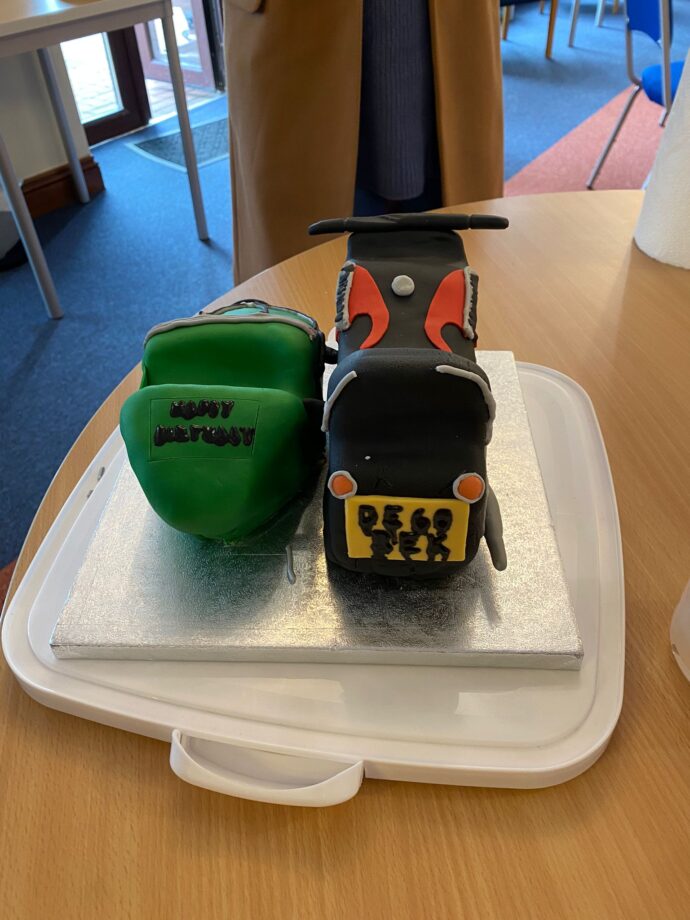 Derek's family and some of our staff were also there to join in the fun and watch him cut his cake.
Tanya said:
I love my job and it's a really good thing to keep people we support doing the things they like. There's no reason that someone's disability should stop them.

Especially for Derek – he doesn't see himself as somebody with a brain injury.

We knew he wouldn't be able to go on a bike again but he was still able to experience something with a bike. It was absolutely amazing.
This content is part of our Christmas2021 series.
Jenna Lloyd is Digital Content Officer for United Response
Your donations help fund our support services so people like Derek can experience magical moments with motorbikes, museums and much more.
Help us bring some sparkle to the people we support this Christmas
Your donation will have a huge impact on the lives of the people we support.
£25 could pay for an hour of job coach support to help someone with autism into a job
£50 could supply tools such as a wheelbarrow for one of our horticulture projects such as Boscawen Farm in Truro, or our allotments in Bristol and Blackpool
£100 could help fund a two hour activity session for people we support such as karate, keep fit or dance
£125 could purchase two new microphones for our community radio stations