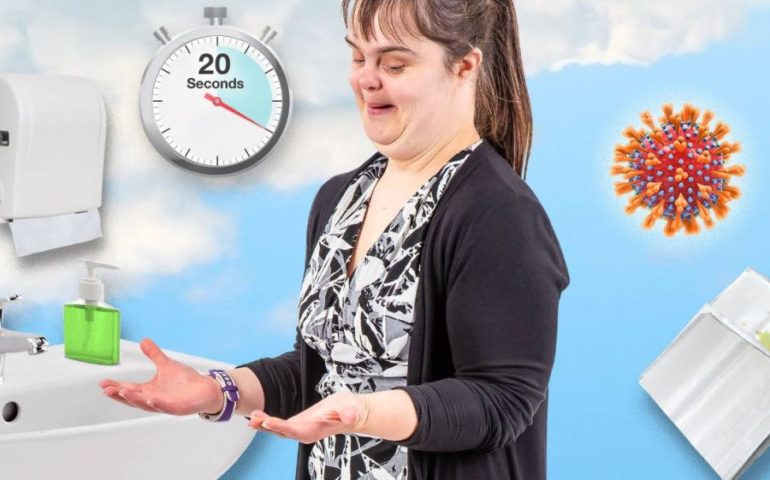 Keeping our people safe and well
Our first priority is always the health and wellbeing of the people we support and our staff.
Government and local authority advice, guidance and law relating to Covid-19 changes often. We send regular updates to all our staff to make sure they understand and follow the current guidance. This keeps them, and everyone we support, as safe as possible.
Our team of directors meets at least three times a week to discuss the Coronavirus situation as it changes and agree our next steps.
Our staff have access to expert health and safety advice 7 days a week through a dedicated email inbox.
All our staff are trained in infection control as standard. The current pandemic demands more PPE and enhanced cleaning procedures. All our staff are given regular updates on how to keep the homes of the people we support as safe as possible.
Read more about our response to the pandemic in our Coronavirus risk assessment.
Read the United Response Coronavirus risk assessment
Advice for visiting people we support
We are deeply aware of how difficult changes to face-to-face contact are for everyone, including the people we support, their families and friends.
We are aware of the government's planned roadmap for cautiously easing lockdown, and will update our policies and guidance in line with each stage of the easements.
Whenever it's safe to do so, we will keep visits for people we support as frequent and normal as possible. Visits are risk assessed based on the people involved and where they live.
Under lockdown restrictions, people we support:
Can bubble with one other household if they live alone
Can meet with one other person who is not a member of their household for exercise. Support workers do not count towards the limit of 2 people
Can leave home with any or all of your household to exercise, with up to two support workers per person.
We always comply with local and government Coronavirus restrictions as soon as they come into place to keep the people we support and our staff as safe as possible.
Read the United Response Coronavirus Visitors Policy
Holidays – please check before booking
Please speak to United Response staff before booking to go on holiday with somebody we support. We have to comply with the law, general Coronavirus guidance and specific guidance for people living in registered care homes or supported living services. The differences in restrictions from area to area can be confusing, and we can help to make sure that any holidays planned are legal and safe for the people we support.
Keeping people we support active and engaged
Being active and engaged is a vital part of life. Since the start of the pandemic our staff and the people we support have found many ways to keep life varied, interesting and fun.
We have some free resources and online seminars to help people to 'Stay Inside, Be Inspired'. These resources are designed to help families and support workers give great support, even in challenging situations.
If you have questions or concerns
If you are supported by United Response, please ask your support worker or service manager.
If you are a friend or family member of a person we support, please ask your service manager.
Please use our general contact information for other questions.
Other information about Coronavirus
We do our best to keep the information on this page up to date. Please be aware that as things often change quickly, your main source of information about Coronavirus should always be the gov.uk website.
For the latest Government rules and guidance on Coronavirus, visit gov.uk/coronavirus.
If you have any concerns about the Coronavirus outbreak, please visit the NHS website.
Coronavirus information from the World Health Organsation (WHO).
Resources from Access Social Care to help you understand the law during the Coronavirus pandemic.
United Response Coronavirus (COVID-19) risk assessment
March 2021 open letter from Tim Cooper, Chief Executive of United Response, to families of people we support.
January 2021 open letter from Tim Cooper, Chief Executive of United Response, to families of people we support.
November 2020 United Response Visitors Policy
Easy News: Coronavirus Special Edition (May 2020)
Guidance: How to wear and make a cloth face covering
Guidance for people who provide unpaid support to people with a learning disability or autism