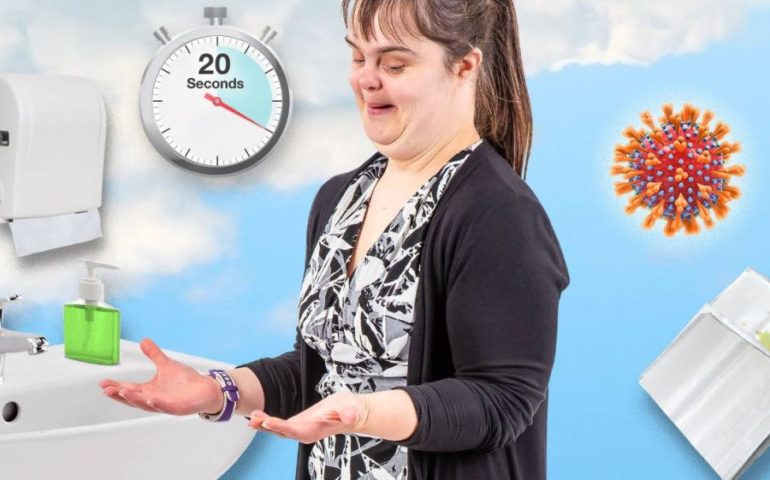 Our Coronavirus plans are being implemented across our services to help us best protect the people we support and our staff.
If you have any concerns about the Coronavirus outbreak, please visit the NHS 111 website.
---
"While this continues to be a very worrying time for everyone, we are working hard to respond to the new way of life we all face. I am very proud of all of my colleagues at United Response and the way in which they have responded to the challenges that the pandemic has brought. Our overriding priority is to keep people safe, we are working hard to reduce the risks both to your family members and our colleagues supporting them." Read more here…
---
United Response Coronavirus (COVID-19) risk assessment
Easy News: Coronavirus Special Edition (May 2020)
Coronavirus rules for May to June: easy read guidance
Government guidance: How to wear and make a cloth face covering
---
From 7 May 2020, all staff who are supporting people will be wearing PPE and our guidance that is staff must wear face masks if they are within two metres of someone. They must also wear aprons, gloves and eye protection in certain scenarios.
Our guidance follows the new government guidelines 'Safe working in Care Homes' and 'Safe working in Domiciliary Care'. This is to ensure we can keep the people we are supporting and their teams even better protected from the spread of Coronavirus.
The people we are supporting and our staff teams have been excellent at keeping the spread at a minimum using hand washing and infection control measures but we must continue to do what we can to protect everyone.
We understand that this will certainly have an impact on people we support and teams are working with people beforehand to think about how to introduce PPE to people and how to lessen the impact it may have.
We have developed some guidance for things people need to consider and adapt the way we support people, especially around communication. We hope that this measure will not be required for a significant period of time – it is difficult for everyone but the rate of transmission remains high.
We will continue to monitor the Government guidance for PPE and update this message when it changes.
---
29 April: in this letter to families of people we support, United Response CEO Tim Cooper says:
"Our overriding priority is to keep people safe, we are working hard to reduce risks both to your family members and our colleagues supporting them." Read more here…
---
24 April: The Department of Health and Social Care has published new advice for care staff and those providing unpaid care to adults with learning disabilities and autistic adults during the coronavirus outbreak. There are also some useful Easy Read documents explaining guidance and the situation with CV19. Find out more here…
---
Further information on Coronavirus (COVID-19)
NHS guide for front line staff to support the management of patients with a learning disability, autism or both during the coronavirus pandemic: PDF | Easy read version
Resources from Access Social Care to help you understand the law during the Coronavirus pandemic
Letter from the Prime Minister to the Nation: Easy Read Version
28 March: Letter from the Secretary of State for Health and Social Care to the social care workforce
17 March: Letter from United Response CEO Tim Cooper to families and carers