Dancing through lockdown with Lucy Freeman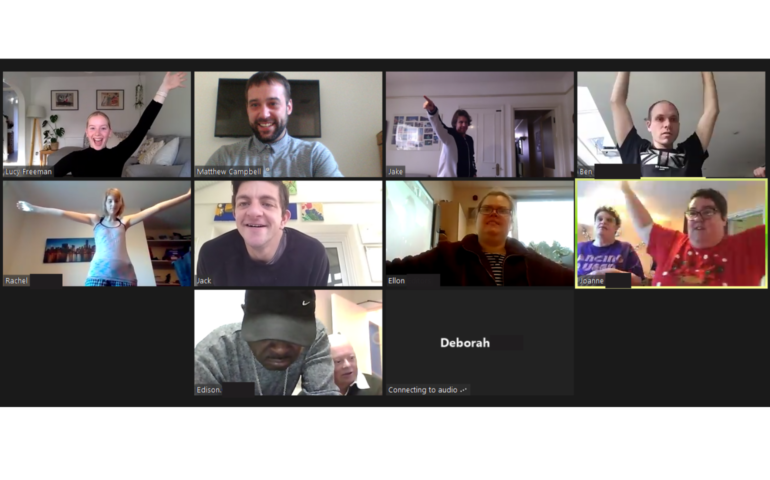 Lucy's passion is deep-rooted. "My brother has cerebral palsy. I've always been around people with learning needs and other disabilities, so it's something that comes naturally to me.
"My degree is in Professional Dance and Musical Theatre. I was an assistant teacher, ballet and jazz focused for children. Matt Campbell needed a dance and movement instructor, we met, and then I started teaching for United Response.
"I wasn't sure how the virtual sessions would work at first. I'm told they work well!" she smiles.
"After the social bit, I start by putting everyone on mute, then making myself big on screen. This means they can focus on me. There's no distractions. I notice they are really listening, focusing and retaining more."
The pride and enthusiasm in her voice is immeasurable as Lucy recounts the students' recent success.
"We put on a mini dance show on Zoom. They'd worked on a routine to a Little Mix song for about 5-6 weeks. They did two performances, one with me giving instructions and the other, on their own. They retained everything and delivered. It was a massive thing. It showed me that their confidence, loyalty to the class and to each other had grown. It was beautiful."
Lucy added: "I put a lot of energy into planning and delivering the classes so that they are fun for all. I could do the session sitting down if I needed to, there's a lot of head, arm and hand movements involved. There's a great energy about the students. They're so positive, they make me feel great. I hope I do the same for them."
You do, Lucy. You really do!
'Dance with Lucy' is currently held as an online Zoom, every Tuesday morning from 11am to 11.45am.

If you would like to join in, please email Matthew.Campbell@unitedresponse.org.uk.
Your donations can help us to provide more classes and services for people we support across the country.