Devon locals with disabilities unveil claymation film for Cornwall climate change summit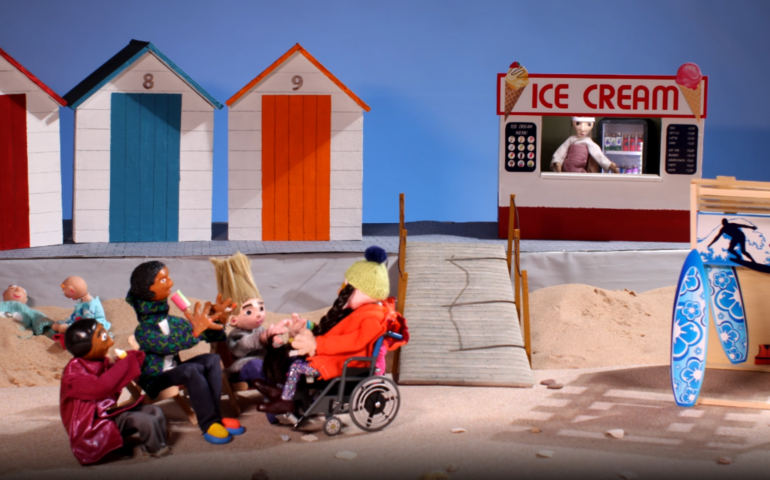 The animation, released as the G7 summit rolls into Cornwall this weekend (11-13 June), was meticulously put together in under two months and aims to highlight how the impact of climate change can directly affect marginalised people – such as those with disabilities.
Local people with learning disabilities, including people we support, worked with Devon-based creative groups to help shape the animation's narrative and storyline.
They were supported by staff to help decorate some of the animation's set and to narrate the film itself.
The early stages of the animation's planning and scriptwriting took place remotely via Zoom during April and May, as restrictive lockdown measures continued to limit face-to-face interaction in the region.
As part of the animation's launch, those involved in the production have also recorded a behind-the-scenes documentary looking at how the short film was made and how the idea came about.
You can find out more about how the video was made by watching the Animation Diaries video below:
The new climate change animation – titled Zack's Story – is the third production from the Devon group over the past year.
The group created their debut animation on isolation and loneliness last summer, following it up with a film on disability hate crime just a few months later.
All of the videos are available to watch in a playlist on the United Response YouTube channel.
It is increasingly believed that disabled people could be disproportionately affected by the knock-on effects of climate change, such as natural disasters. A recent United Nations survey found that nearly three-quarters (72%) of disabled people have no personal preparedness for natural disasters and nearly 80% would not be able to easily evacuate their homes should disaster strike.
The United Nations is pushing for true inclusion when it comes to disaster response, especially in the face of ever-growing concerns over climate change.
World leaders including Angela Merkel and Joe Biden will this weekend meet at the Carbis Bay Hotel in Cornwall to discuss the global health system, the Covid-19 recovery, climate change and trade. The UK, in its role as the summit's host nation for 2021, will then publish a document outlining what has been agreed by the attending leaders.
Kate Conroy, senior service manager for United Response's Wellbeing Devon project, said:
We decided to make this animation because of the G7 summit coming to Cornwall. It is an important opportunity to raise awareness of the bigger issues around climate change and help people understand the difference they can make so we can all live a more sustainable life.

We want the G7 to listen to the voices of people with learning disabilities and hope this animation will help disabled people realise they can make a difference too – we want to involve everyone in the fight against climate change.