DJ and podcast star with autism celebrates 100+ shows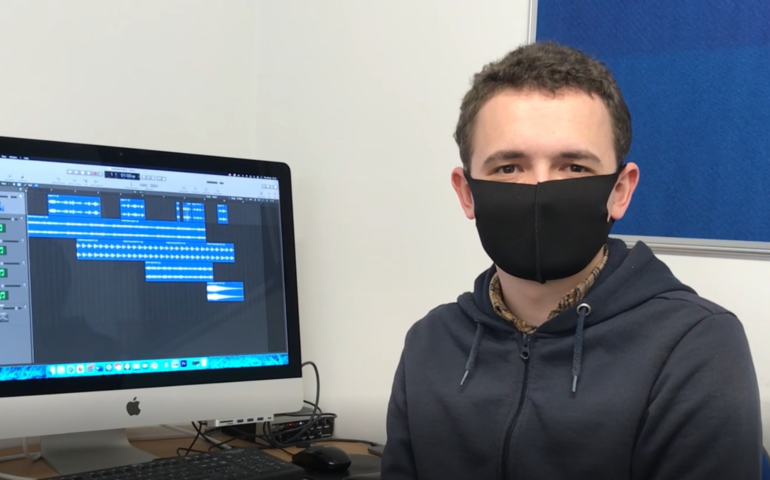 Harrison is 23 and lives in Wheldrake, North Yorkshire. He started making podcasts three years ago and has now made over 100 episodes.
His latest show Moon Beat is a mix of the nation's favourite pop and dance music – with some entertainment news and trivia thrown in.
The show is on hiatus now but you can listen to previous episodes on Mixcloud.
Making podcasts in lockdown
Harrison studies music technology and sound recording at URTEC in York.
"Lockdown has changed a lot of things for me. It forced me to work at home in my bedroom and record my podcasts there."
He added: "We had to do our sessions via Zoom which wasn't easy because we had a lot of stuttering and losing connection."
Harrison has autism and is a bit of a perfectionist so he finds pre-recording podcasts allow him to get the timings of his shows just right.
"Doing live shows builds a lot of pressure on you – you've got to really perfect your lines and you can't be too long otherwise you might get the programme off schedule."
Choosing a playlist
Harrison knows that a lot of people have felt sad or anxious during the pandemic and he hopes that his podcasts have helped to bring happiness to people.
To do this, he plays songs that his audience knows and love from chart-toppers like Dua Lipa and Jason Derulo.
I have a lot of songs that I really like that I think deserve to be played but sometimes you have to not play too many of those. You need to have music that people know really well.
A huge music fan, Harrison's favourite genre is EDM (electronic dance music). His favourite DJs are Calvin Harris and Marshmello.
Music makes me get lost in a different world. I'm finding my spark, closing my eyes and listening to the music I really like, sometimes I move around and dance… That's what music does – it makes you feel like you're in a different world.
Future work
Harrison wants to find work experience at a radio station:
"What I'd really like to happen is me being on an actual radio, being able to play my favourite songs."
As well as his dreams of being a radio DJ, Harrison also has a keen interest in video game design and development. He even has a great idea for his own video game!
With his enthusiastic voice, Harrison and his tutors have also discussed the idea of doing voiceover work for animated films, TV or games in the future.
Moon Beat is currently on hiatus while Harrison is working on some new ideas, including a show called 'Streetjam' aimed at younger audiences.
You can follow Harrison on Twitter @DJHarrisonFB to keep updated with this and other future projects of his.
Jenna Lloyd is Digital Content Officer for United Response.