Done and dusted: from hoarding to homely in Nottinghamshire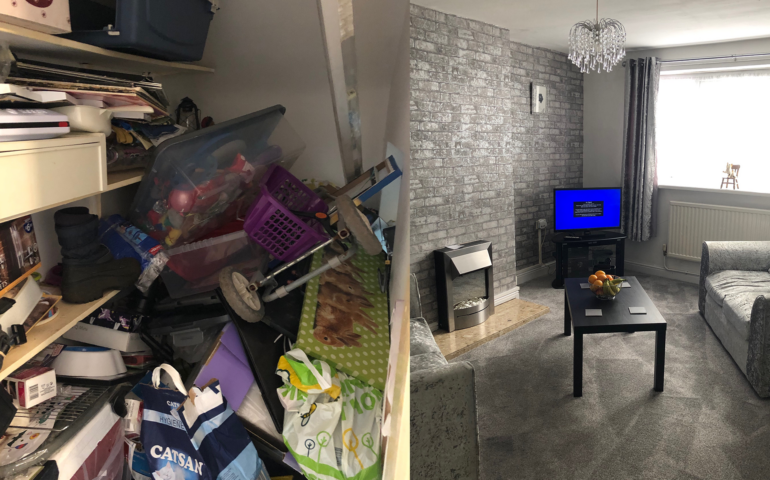 Christina is 28 and lives in Nottinghamshire. Ever since her Dad sadly passed away in 2017 she has lived alone in the flat that they once shared. Her Dad had a habit of hoarding, and this was something that rubbed off on Christina, leaving her flat full of old and broken furniture, boxes and other things.
In January 2021, things literally hit breaking point when the ceiling fell through from water damage. It was decided that the flat's much-needed clear-out and refresh had to happen without delay. First order of business was clearing out all of the clutter and sorting the items that could be donated to local charity shops. Once that was done, and following a combination of trips to the tip and the council collecting rubbish, there was finally a clear space and a clean slate for Christina to create the home that she wanted.
Christina, who receives support from United Response for everyday living skills, chose all the new décor and the flat was given new wallpaper, carpets, curtains, furniture and even some appliances. The ceilings were painted and a comfortable new sofa was added, as was a new bed. Thriving in her new personal environment, Christina said:
There is more room now and everything has a place. I love the colours and how the colour scheme continues throughout. I especially love how soft the new carpets feel under my feet. My favourite part was buying all the finishing touches.
She believes that if anyone is on the fence about changing their home, they should do it:
Go for it and don't be afraid of the hard work as it's worth it at the end when you can watch TV and feel comfortable.
Christina's support worker Stella also revealed how beneficial the transformation was to all that were involved:
I feel so proud of how Christina helped me with clearing and cleaning her flat. She helped to put the wallpaper up and remove carpets which in turn has given her pride in her surroundings. She is now able to find things and keep her flat clean and tidy.
You can view a video of the transformation of Christina's flat on the United Response Nottinghamshire and Derby City page here.
This inspirational tale is just one of many in Nottinghamshire thanks to the support provided by United Response.
To find out more about how we support people in Nottinghamshire you can click here. We are also looking for support workers in Nottinghamshire and Derby City, you can apply now at www.unitedresponse-jobs.org.uk or email recruitment@unitedresponse.org.uk