Kate's graphic design talent lands local freelance work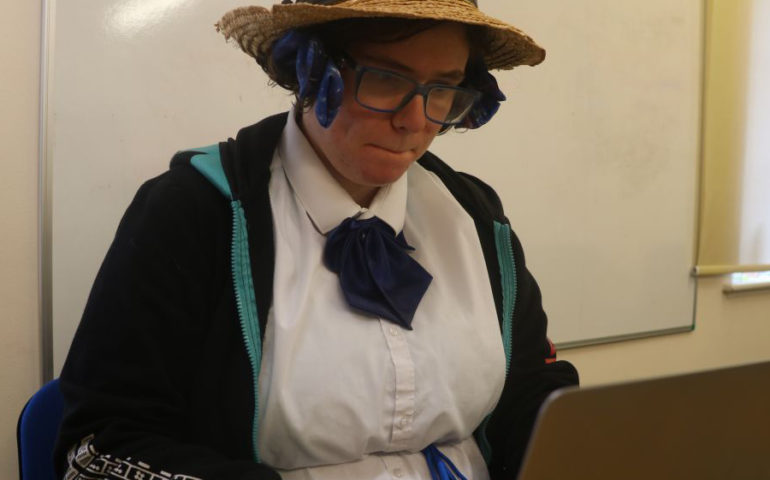 24-year-old Kate first came to United Response a year ago. Back then, she was a media student hoping to take her first steps into the world of design.
Since then, she's landed multiple freelance opportunities making posters and flyers for a local production company.
Having previously worked at a cinema for five years, Kate decided it wasn't for her, and sought help from United Response. "I got stressed out and was on sick leave, then I got a job here at United Response Training, Employment and Community (URTEC). They helped me with media, showing me how to use the programs and training me up."
How Kate started doing graphic design
"It was Simon Copper, the URTEC Service Manager, who introduced me to InDesign – he wanted me to have a play around with it. Then Matthew, my Job Coach, asked me to do this project and I thought, 'Yeah, I can do that'".
Kate has been doing graphic design work for just a few weeks. Some of her work includes promotional flyers for local production company Off the Rock productions.
"I did the photography for a play called Not So Funny Now, and edited some interviews and promos too. I did that earlier this year and I think it did really well so Matthew asked me to do another project, called The End of the World in Five Plays."
Kate's creative process
When creating her designs, she seeks advice, before sending off the final version. "Usually I give the work back to him, and he gives me feedback on what to change and what not to change."
Kate also works for Blue Tomato Studios, a York media agency run by people we support and job coaches. The group produce videos on some of the people who are supported by United Response to get a job. "Sometimes we do vlogging too, so we do sessions on what people want to vlog about and then make it happen."
Kate's inspirations for her graphic design
Her inspiration usually comes from Japanese manga comics, although she sometimes gets ideas from everyday life. "You walk around in town and sometimes you see really awesome posters, but you also see really rubbish ones that don't stand out really well."
Kate wants to continue doing more design work, and talks enthusiastically about the benefits. "I think it's really fun to be a graphic designer. You can play around with the text, graphics and colours. You can get really creative, the possibilities are endless – it's really cool!"
How we support people to get work in York