Horse lover Andy gets closer to his favourite animals with supported carriage lessons from RDA Woodbridge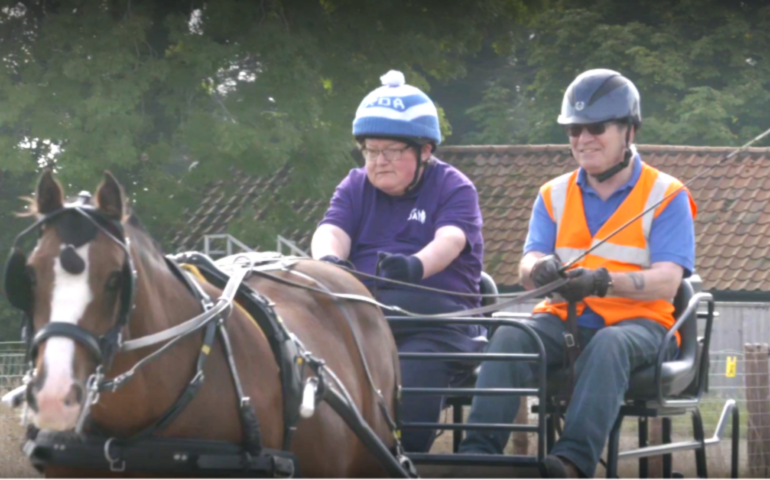 Andy has been attending carriage driving sessions with Riding for the Disabled Association (RDA) Woodbridge for about five years now.
He told us about the first time he went riding at RDA and why he likes horses so much:
The first horse I went on was Domino who pulls the cart.

I love all animals but horses are my favourite. They're just very clever and very smart. Some horses pick up quicker and some horses pick up slower.
Andy's favourite horse is called Dolly.
As well as leading her to pull the carriage, Andy also likes grooming her:
I've got my favourite little horse, Dolly who is a pony. She pulls a carriage and she's got big attitude.

She's got a really sweet nature but she can have a really bad temper on her but she's good to me.
Watch the video from RDA and Community Action Suffolk below to see Andy and the horses in action:
Andy's support worker, Jan, has been working at United Response for 25 years.
She's been working with Andy since he started being supported by us four years ago.
Jan said:
The lessons give Andy something to do but also a chance to bond with the animals and as we know animals can be very therapeutic.

I think he finds time with the horses good for when he wants to chill.
Andy told us about lockdown, when he was unable to go to the stables to see Dolly and the other horses, and how much they missed each other during this time:
We were in a really big lockdown and I didn't see her for ages and ages.

When we could go back for pony time, Dolly was tied up and I walked in and she gave a big smile.
During this time, Andy also decided he wanted to fundraise for the RDA.
Andy walked laps in his garden – inspired by the efforts of Sir Captain Tom – and raised a whopping £500 in total!
Laetitia Nnalue is Marketing and Communications Officer at United Response