How to make: a chalkboard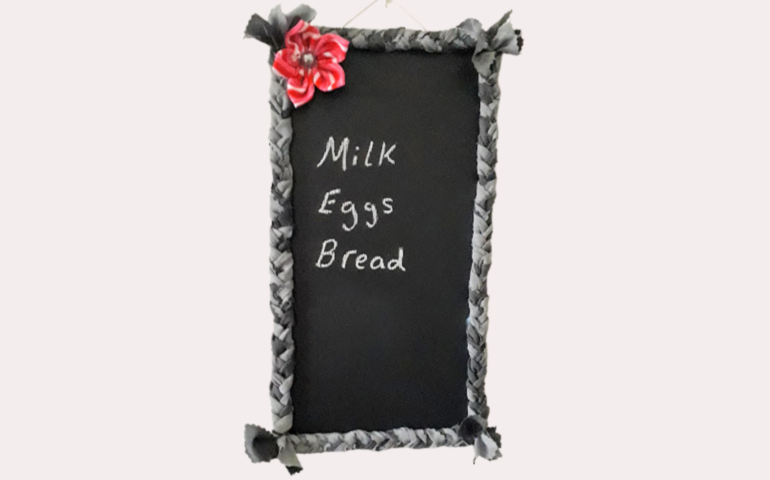 The team have been busy chopping up old jeans, sweating over the drill and getting mucky with the paint to make some of these.
You will need:
Laminate floor scrap/ offcut wood – any size you like
String
Pair of old jeans – you'll be cutting them up so make sure they are really ready to throw away!
Drill
Sandpaper
Blackboard paint
Small foam paint roller
Glue gun
Scissors, pinking shears or rotary cutter
How to make a chalkboard:
Make sure the piece of board is clean, dry and free from dust.

Sand any rough edges. It may to tape a piece of sandpaper to a table or work surface and rub the board against it.
Mark 2 points for string holes at the top edge of the board.
Drill 2 holes at the points you have marked. Use a piece of wood or an old book under your board so you don't drill into you work surface.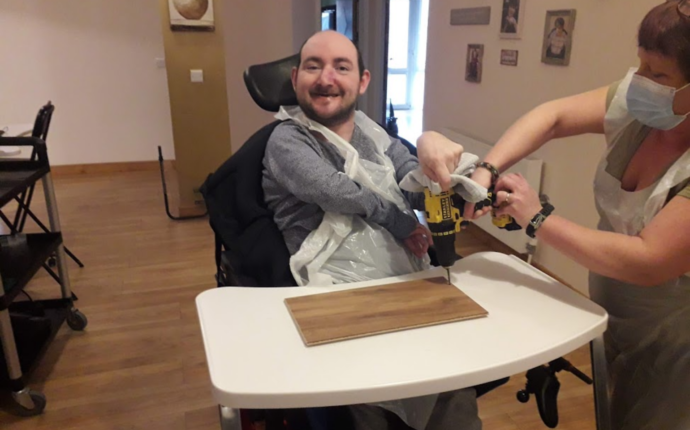 Apply a thin layer of blackboard paint with the roller. Make sure you mix the paint thoroughly before use.

Tip: Propping the board up rather than laying flat can make it easier.
Allow the first layer of paint to dry then apply further coats as needed. If applied thinly, blackboard paint dries quite quickly.
Cut the legs off the jeans then cut into long strips at least an inch wide. You need to make sure the strips are a bit longer than the edges of your board.

Tip: Using a rotary cutter may be easier than scissors. If you don't mind a bit of fraying, you could also rip the fabric.
Gather the strips into four bunches of three. Use a string to tie each bunch of three at one end – leave ½ to 1 inch above the ties.
Starting at the tied end, plait each bunch and tie off at the end.
Thread a piece of string through the hanging hole and tie off.

Use the glue gun and stick your plaits down along each edge to make a frame. They can be cut down to size and tied again as needed.
Glue on any decorations – we've been using flowers we made from scrap fabric last month.
Hang it up, grab a piece of chalk and you're ready to go.
Happy making!