How to make: bottle lamps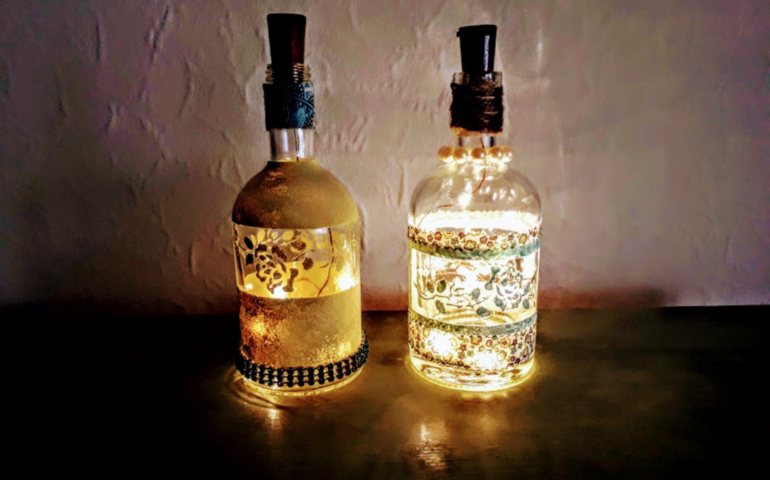 This week, we've used empty gin bottles to make these pretty bottle lamps.
They're really simple to make and make great mood lighting or an unusual table decoration.
You will need:
Clean empty glass bottles
Paint – we've used leftovers from paint testers
Sponge applicator
Stencils
Masking tape
Fabric scraps
Scissors or a rotary cutter
Beads/ buttons/ sparkly bits – whatever you want to use!
Glue gun and double-sided sticky tape
Bottle lights – available from Amazon
How to make the bottle lamps:
Wash bottles thoroughly and remove labels.

Tip: If you have a sticky patches left, try scrubbing the bottles with a scourer and a little mayonnaise or cooking oil, then wash them again and dry them.
Put your stencils and masking tape on the parts of the bottle you want to paint.
Use the sponge to press paint onto the bottles.
Let the bottles dry then remove the stencils and tape.

Tip: A cool hairdryer can be used to help dry the paint a little more quickly.
Cut your fabric into strips the same width or slightly wider than your double-sided tape.

Tip: Using a rotary cutter may be easier than scissors.
Stick the double-sided tape to the fabric. Remove the backing and stick the fabric on the bottle.
Glue on any beads, buttons or sparkles that you want to use.
Pop in a set of bottle lights and switch on your new bottle lamps!