'I have lots of friends now': Nolan on his friendships and relationships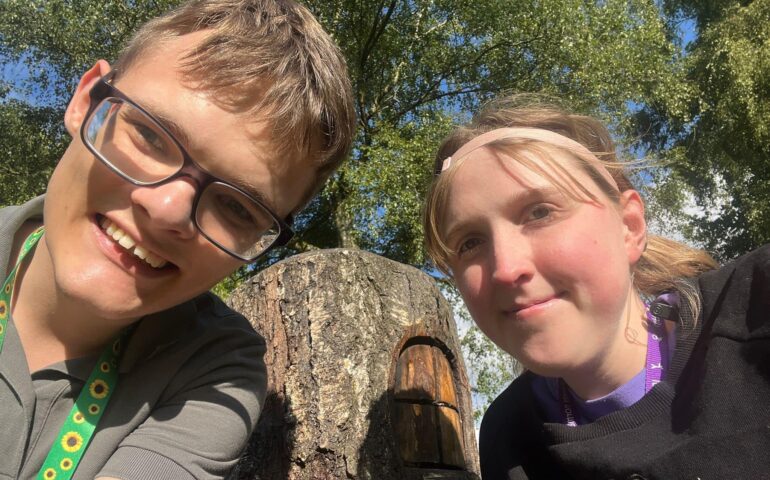 Hi, my name is Nolan. I am 23 years old and I work at Trafford Council.
I was non verbal before the age of five and I didn't have any friends. I turned lights on and off and one time I slipped whilst trying to turn on a light and had to have stitches in my chin – I still have the scar now! Another time I tipped ketchup, coffee and sugar into the fish tank because I thought the fish would like that, my mum wasn't very pleased.
At school
Things got better for my communication when I was in Mrs Yeates' class at primary school. She made me feel like the person I am today, she has supported me a lot to make new friends and helped with my talking and communication skills.
When I came into her class I could only say one word but when I left I was talking too much!
Mrs Yeates is retiring this year so me and my mum have written a letter to thank her for all she did for me back then: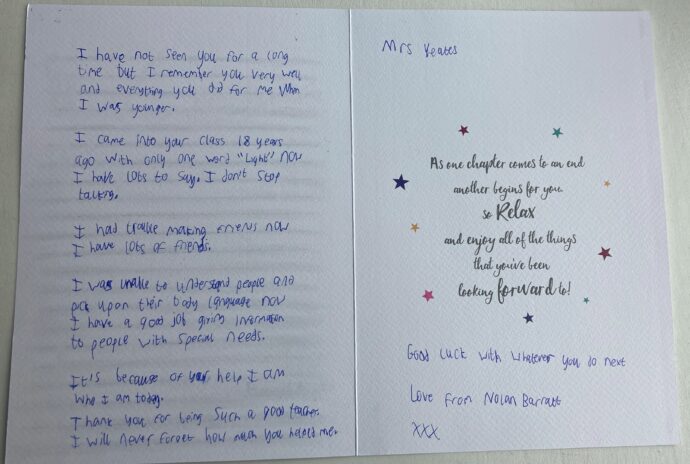 At high school, I used to wind people up sometimes. I don't know why, maybe I was a lot more immature then and I regret that now. But this is where I met my girlfriend Sally and at this time I also started going to the I AM Youth Group in Stretford where I made lots of new friends. My college internships and work experience helped me make some more friends too.
I have lots of friends now and I love going to parties with them. I also enjoy meeting up with my friends. They make me feel included when I'm taking part in activities we do together such as bowling, golf and the cinema.
I'm in lots of Whatsapp group chats too from different places, like the basketball club I go to, the college meet-up one and the Trafford Council work one.
My advice for other people with autism to make friends is to get involved in youth groups and other activities like the basketball club I did and horse riding. They have helped me meet lots of new people and make good friends.
Meet Sally
I see my lovely girlfriend Sally every week. We go out for food and to places such as The Trafford Centre and Manchester Arndale – I enjoy spending the whole day together! Sometimes on special occasions, we go on mini holidays together, at hotels or Airbnb's for a few days. She is really kind and that's what I love about her.
I think people with autism can be in romantic relationships – it's good for their wellbeing. I enjoy having a girlfriend who is very kind, generous and caring to everyone.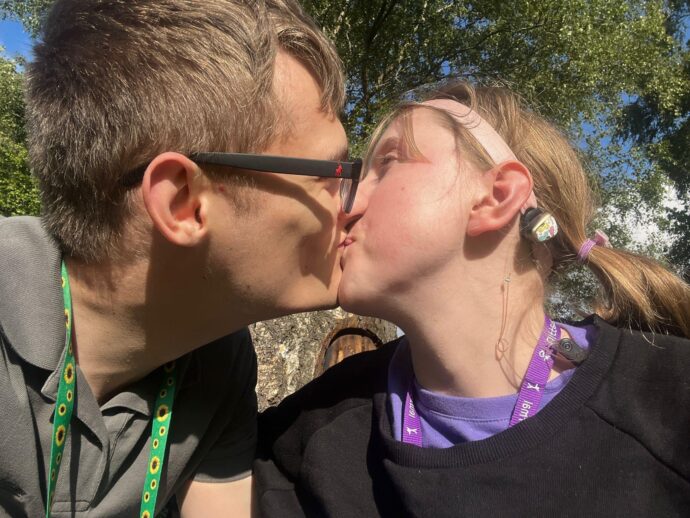 Nolan Barratt is a media contributor for United Response.

He's a cat-lover and he's really good with computers. In his spare time he likes listening to music, watching Family Guy and American Dad and going out with friends.

You can read his other blogs here.