'I'm proud to be running for people with learning disabilities and autism': 62-year-old fundraising hero Kate runs 100 marathons for United Response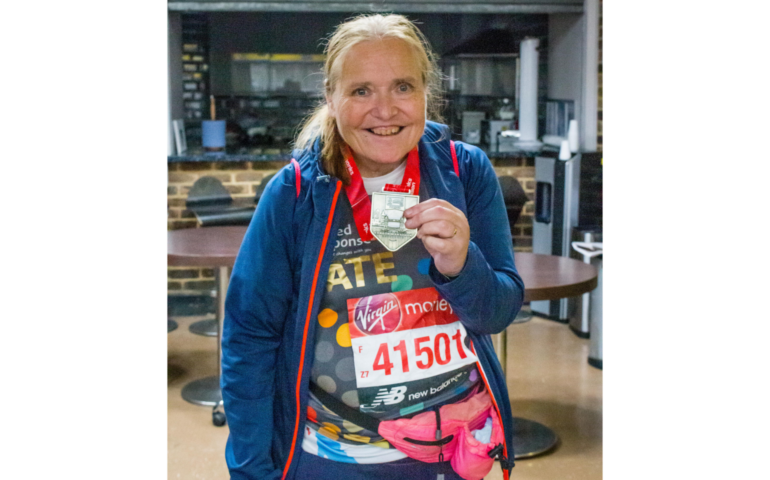 Kate started running when she was 43, having decided to take up a fitness regime to lose weight:
I was a lot heavier – I was over 24 stone. When I went tobogganing with the children in January 2003, the toboggan split with my foot inside. It was the wake-up call I needed to get fit.
Being a part of Team United Response
Having spent a year training and getting her fitness levels up, she ran her first marathon in 2004 and has continued to run for us every year since:
All being well, I could reach my 100th marathon in April.

I'll be donating half the money to United Response and half to my workplace, East Surrey Hospital.
Kate added:
I'm proud to be running for people with learning disabilities and autism.

I want to say a huge thank you for allowing me to be a part of Team United Response for so many years. It's been such a great journey.
During the pandemic, Kate started studying for a degree in Psychology.
She also took part in a number of virtual fundraising challenges organised by Run Reigate and Action Challenge, including running 1083 miles – the distance between Lands' End and John O'Groats.
Her advice to anyone looking to start their fitness journey is to persevere:
Start small – I started with mile or two at a time – then keep going and keep working at it. The rewards are fantastic – it's such a feeling to achieve something like this.
Fitness and health challenges
Kate has had three spinal surgeries and a knee replacement, but she hasn't let any of these procedures stop her:
I had cervical spine surgery in December 2020 and celebrated that with a track marathon, raising money for NHS Charities Together and Mind.
She says that running has been key to her recovery:
With my osteoarthritis, the faulty disk won't go away, but it's about what you can do to maintain your fitness.

Before I was living on really strong painkillers. I've stopped all of that now and I run, jog or walk most days.
Marathons, marathons and more marathons!
Kate has another busy year of events lined up.
She'll be taking part in the Y2Y North Downs Marathon Trek, the Manchester Marathon, Brighton Marathon, the Easter 50 Challenge, the Isle of Wight Challenge, Bewlwater Marathon, the Jurassic Coast 100km Challenge and the London 2 Brighton 100km Challenge before running the London Marathon in October.

We'll be cheering Kate on every step of the way and we're really looking forward to celebrating her 100th race!
Has Kate inspired you to take on a fundraising challenge?
We have places at several events this year – click the link below to find out more.
This content is part of our 'Proud to Be' series.
Jenna Lloyd is Digital Content Officer for United Response.