"It made me love golf even more": United Response visits local golf club for golfing experience day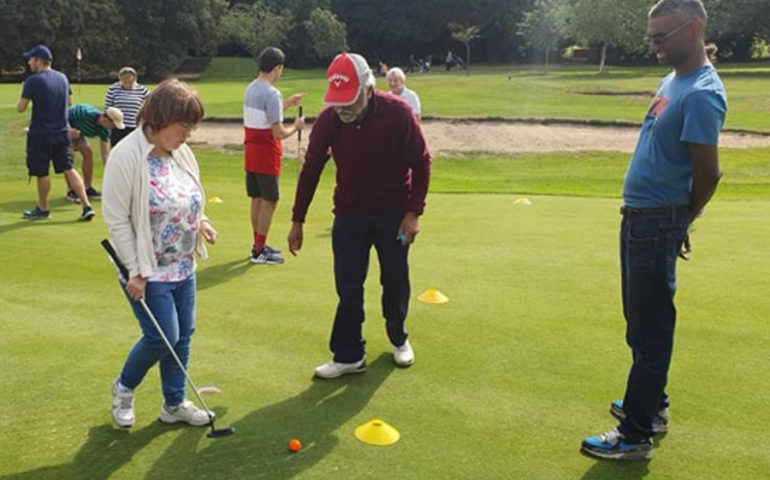 Last month people we support were invited to Strawberry Hill Golf Club in Twickenham to take part in a golf taster day where they were treated to 1-1 coaching and the chance to practise their skills.
Margaret, a member at the golf club, very kindly got in touch and invited the United Response team down for a taster session on a wonderful sunny day. People who visited were treated to a demonstration of how to hit the perfect shot, before being given the opportunity to try it out for themselves at the driving range. Each person was given a number of balls to practise with, and the coaches made sure to visit everyone individually to give them some tips on improving their shot. Throughout the sessions everyone could see a marked improvement: originally balls were landing in the rough but by the end of the morning everyone was pleased to be aiming much nearer the hole. After trying out their skills at the driving range everyone was invited to try their hand at getting a hole in one with Margaret setting up a number of quick challenges near the final hole.
After working up an appetite golfing everyone was treated to a delicious lunch in the clubhouse. After lunch a presentation ceremony took place where everyone was awarded for their brilliant efforts throughout the day. Everyone who attended had a fantastic day and there were smiles all round. As Colin says: "It made me love golf even more" and there's even been talk of a group visit to another golf course or driving range to continue this new hobby!
Everyone who took part would like to say a massive thank you to all the team at Strawberry Hill Golf Club who made the day so special and one to remember. Matthew Campbell, United Response Team Leader, sums the day up: "We really enjoyed our time at Strawberry Hill Golf Club. The staff team and members were a great support and ensured we had a great day. They catered for our every need and gave the people we support the opportunity to try something new".