'Just do it: United Response have done everything possible to help me arrive at my dream job'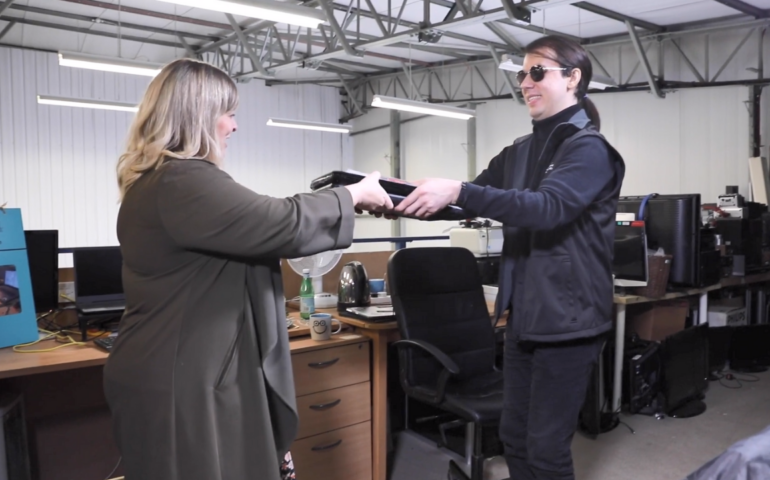 Earlier this year, we worked with Tyler and his local Jobcentre Plus to secure him a role as an IT Technician with IT ReUse, part of the York Community Furniture Store.
The job was originally part of the Government-sponsored Kickstart Scheme which provides funding to employers to create jobs for 16 to 24 year olds on Universal Credit. Tyler's Jobcentre Plus work coach Danny and I worked closely together to identify a role that best suited Tyler.
Danny said:
It was a great partnership, probably one of the best that we've managed to do with somebody.

Not only did they work with Tyler on an individual basis – the three of us worked together to ensure that we actually went for a job that Tyler wanted to do and that would suit him.

That was ultimately the main aim – to get something that he wanted to do and that would help him in his future.
Tyler said:
From day one here, I was busy assembling laptops, wiping and preparing them to be sent out to clients. Ever since then my responsibilities have been increasing as my confidence grows.

Since I left college, I've been through a variety of voluntary placements but I've had great difficulty finding work due to chronic health issues and sensory issues.

Finding this opportunity at IT ReUse has been amazing for my health, my mental health and general wellbeing. It's an environment that's friendly to me, I've got a very supportive team of people to help me get used to work and to deal with any problems that I face.
Because of Tyler's strong IT skills, particularly working with and repairing hardware, he very quickly became an extremely valuable member of the IT ReUse team. This was best evidenced by the fact that at the beginning of this year Tyler was made a permanent member of staff!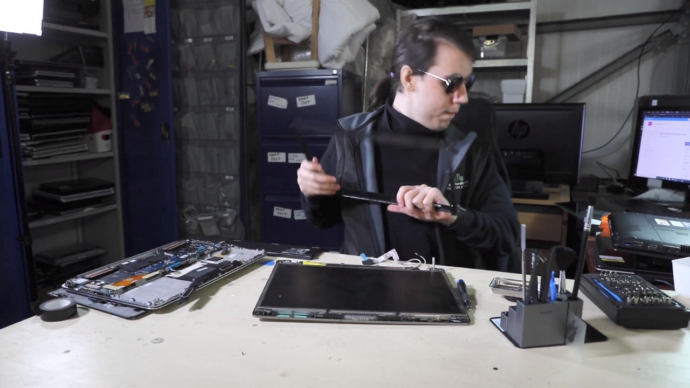 What's next for Tyler?
Now, here's the really exciting news…
Following a restructure at York Community Furniture Store, Tyler's old boss, Tom Meares was promoted to Area Manager, taking responsibility for the charity's three other stores in North Yorkshire.
Tyler has now been appointed interim Project Manager for the IT ReUse operation. Not only that, but he has refreshed and relaunched their volunteer programme and is now supporting and mentoring two people we support himself!
Tom said:
The support from United Response has been fantastic from the start of the process with inducting Tyler, right up to now. They've been able to help us with any support need that Tyler has, anything that we can do better as an organisation.
Tyler added:
It's really been life changing for me – it's changed the entire way I live. I have a routine now, I do a lot more healthy things.

I'd like to tell employees, just do it – contact United Response because they have done everything possible to help me arrive at my first and dream job.

They are really good at working with neurodivergent people and people with challenging needs. They have just been stellar and there's no reason not to use them.
What is IT ReUse?
IT ReUse is part of York Community Furniture store. The organisation takes donated IT equipment from local businesses and individuals, refurbishes the hardware and updates and adds new software as required. These refurbished computers, tablets and smart phones are then given back to the local community to be used by people who would otherwise be unable to access the internet.
The scheme is a pivotal part of the City of York Council's digital strategy which aims to provide 100 percent access to the internet for all York residents by 2025.
Our IT ReUse partnership agreement paves the way for some collaborative working together to deliver on this promise using our combined resources and experience.
So far we have used our partnership to help raise funding for IT ReUse and our URTEC Media team have produced promotional materials to support bids and grant applications for them.
Watch this video to meet Tyler and find out how he and his colleagues at IT ReUse are helping to put something back into our local community:
Transcript: Working at the York IT Reuse Community Scheme
Steve Sims is a Job Coach at United Response's Supported Employment service in York.