Keeping people connected to their loved ones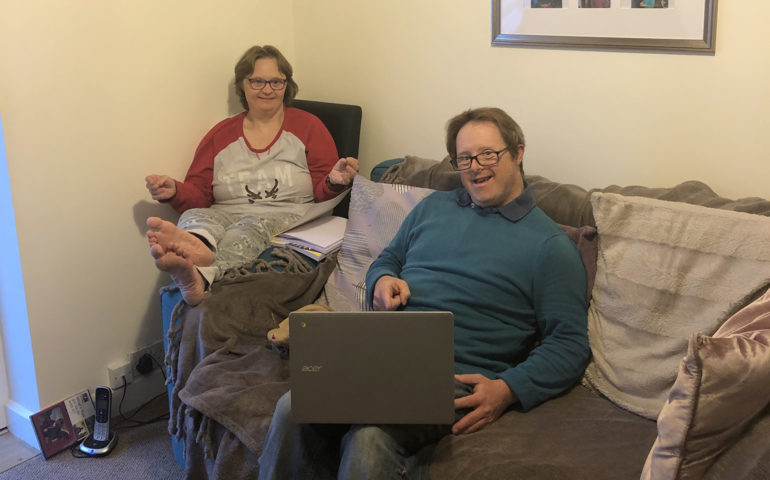 Thank you to everyone who supported our recent Keeping People Connected campaign.
Your donations and sponsored events are helping people with disabilities to keep in touch with friends and family across the country.
Two of our services in West Sussex used the money raised to purchase laptops and printers for use by the twelve people living across their sites.
Before the Covid-19 restrictions came in, the residents were all very active in their local communities, attending paid work placements, and regularly visiting dance classes, leisure centres, cafes and pubs.
The equipment supplied by Keeping People Connected has ensured that the people living at these services are able to speak with family and friends regularly, as well as joining in online activities organised by United Response and other organisations.
For instance, they have joined in regular online dance and exercise classes, taken part in art classes with the Aldingbourne Trust and have even been on virtual tours of zoos and museums!
Here's what the people at our two services in West Sussex have to say about their new equipment:
I really enjoy the laptop – I am able to watch films with my friends and keep in contact with my friends and family over Skype and Zoom. I was also able to work out how to work the computer quickly – I am very proud of myself. For the first time, I am sending emails to friends and family and using Zoom about 3 times a week.
I enjoy being able to listen to all types of music on the laptop with my wife Sheila – we dance around our living room listening to it. I am also really proud that I am able to work the laptop without staff support. I also print my art supplies off of the computer through our printer – I enjoy this because I can draw/paint what I like.
I enjoy watching films with my friends and keeping in contact with my friends over Zoom on a Wednesday – I helped people work out how to use the laptop once I could!
Make a donation now and help more people with disabilities across the country keep in touch with their loved ones.