How DIY-enthusiast David found work at Homebase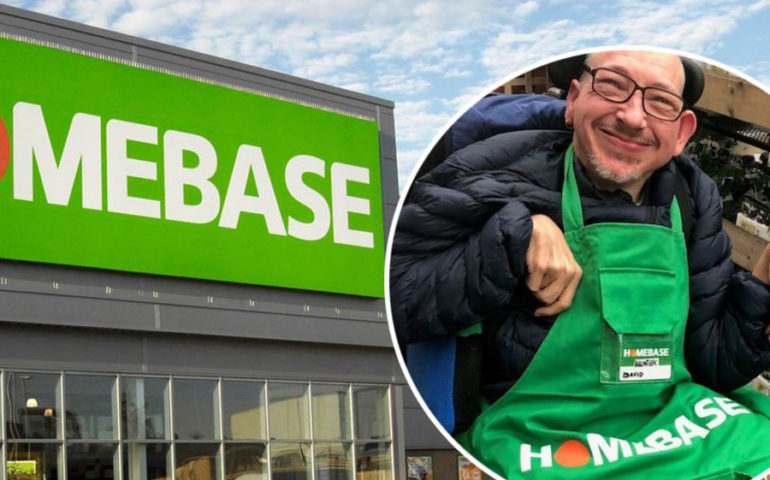 David, a person we support in Harrogate, loves DIY and technology. We look back over his past three years working at Homebase, and find out his ambitious plans for the future.
A few years ago, David's support workers were looking for meaningful activities he could do. They knew he enjoyed being active and part of mainstream society, rather than specialist day services and repetitive college courses. They decided to find him a supported volunteering opportunity, so they asked around the community, approaching charity shops initially.
How we found the right work for David
"A lot of places weren't interested, or there were health and safety/insurance issues. Some of them weren't accessible as well," says Susie Harrison, Service Manager of where David lives in Harrogate. Having learning disabilities and being an essential wheelchair user made it difficult for support workers to find something right for him.
When they noticed him taking an interest in workmen who'd come round the house, they knew they had to nurture his newfound interest in DIY. "He'd ask questions like 'What are you doing that for and why?'" says Susie. So a support worker approached the local Homebase, and after attending an interview, David got the job.
How we support David to volunteer
He works every Friday for one to two hours, and his role includes pricing up the stock, marking sale tiles down, tidying the shelves, and watering the plants in summer. "If someone comes up to me and asks where we keep something, I can show them," says David, "or I use my radio and ask for help from other staff."
"The great thing is he loves technology and mobile phones," says Susie, "and having a radio ticks that box – so it's the perfect placement for him." Simon, David's support worker, helps him during his shift, usually with hand over hand support. "For example, if he's using the hose, we'll hold it and David will pull the trigger."
David's plans for the future
Since working at Homebase, support workers have noticed a huge change in David. "He's got a greater sense of purpose, because that's his job, he's responsible, and he likes it," says Susie. "He calls the staff his colleagues, and they see David as a colleague too, so he's part of a team."
"It makes me feel proud," says David, "I like having a Homebase tabard." When asked what he wanted to do in the future, he had ambitious plans. "I want to carry on working at Homebase. And if my line manager left, I'd go for the job."
Find out how we support people to volunteer