Learning disability charity wins health and safety award for post-Grenfell work on fire advice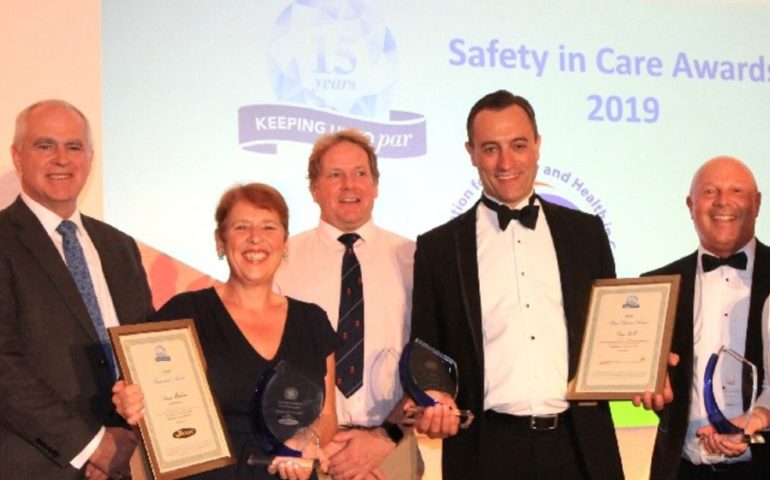 The head of health and safety at a national learning disability charity has won an industry award recognising her work to transform fire safety advice for vulnerable people living at its registered care homes across England and Wales.
Shonagh Methven, who has led on health and safety at United Response for 18 years, scooped the award at this year's National Association for Safety and Health in Care Services (NASHiCS) conference.
Her award-winning work focused on the prevalence of cladded buildings but also the 'stay put' approach, each brought into sharp focus following the tragic Grenfell Tower fire in June 2017.
After checking that no cladding was fitted to any of the 460 United Response care homes or company buildings, she led an organisation-wide conversation challenging the longstanding national advice of asking people to stay in their homes during a fire until emergency services arrive.
Shonagh explains: "Grenfell Tower rightly made the nation sit up and take notice of fire safety, and profound changes to the housing landscape complemented the existing efforts of our staff to continually modernise and improve evacuation plans."
Shonagh also looked at the company's fire risk assessments, ensuring that where people with learning disabilities had mobility support needs there was a safe environment to give staff time, the appropriate equipment and a safe exit route to evacuate a building.
Perhaps most significantly, however, Shonagh introduced a new approach at the charity to encourage evacuation among those with challenging behaviour and who may refuse to leave promptly in an emergency.
She explains: "We've done a great deal of work at United Response to make our fire escape processes safer and shorter, and in some cases we have had to think very creatively about how our staff can get everyone along these routes in the easiest way possible – even in the hours of darkness.
"Central to this has been identifying objects or phrases of reference to increase the likelihood of people we support wanting to leave in an emergency. It might be bringing someone's favourite hat, a familiar drink or simply a person who they've known for a long time to encourage them to leave."
Shonagh's new method can even mean the announcement of an impromptu – and sometimes midnight – trip to a fast-food restaurant. "Phrases ranging from 'get your coat' to 'let's go get a burger' both work equally well!"
A consistent approach drives the evacuation strategy so the same phrases and methods are tested during regular rehearsals to ensure they work when they must – resulting in a firm understanding that nobody stays put in an emergency.
United Response supports more than 2,000 people in close to 500 locations across England and Wales. "We support vast numbers of people with learning disabilities, some with limited mobility and capacity," she continues. "We are always looking to lead the way in best practice when it comes to fire safety."
NASHiCS exists to promote excellence of safety and health in care services and offers guidance, advice and support to care providers across the country.
Shonagh was presented with her award at a ceremony on Wednesday 11 September in Northamptonshire.