London Marathon runners raise over £41,000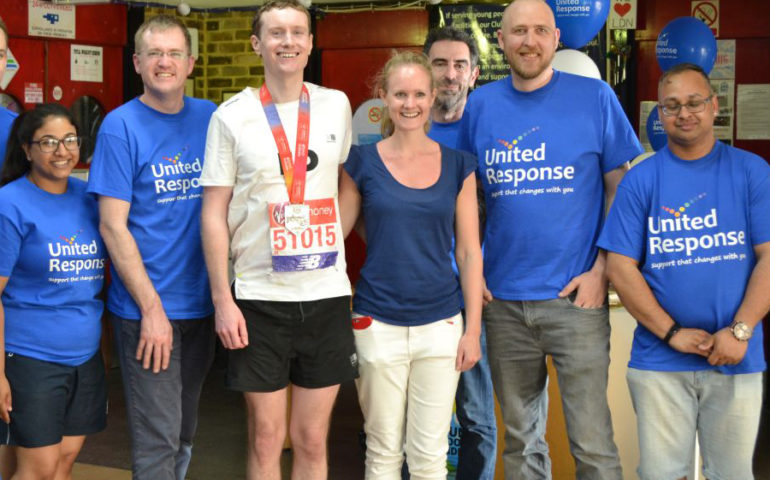 Our team of cheerers set up nice and early in Canary Wharf between miles 18 and 19 armed with balloons, banners and loud voices ready to cheer on our runners as they passed.
The sun was shining before the race even began and runners and supporters alike began to gather, creating a real buzz all along the route and throughout the race.
Our runners
This year we had 18 fantastic runners taking part, all determined to smash the course and raise as much money as possible for United Response. A few runners were completing their first marathon, others had a personal connection with United Response, and some were running in memory of a relative. One of our runners, Kate was completing her 16th consecutive marathon for United Response and her 50th marathon in total – what an achievement! Our cheerers really enjoyed looking out for our runners as they passed, giving them an almighty roar, taking some photos and even managing a high-5!
A record breaking challenge
With temperatures reaching 24.5 degrees, 2018 was officially the hottest London Marathon on record. This didn't deter our runners though and every runner managed to finish, each with brilliant times and, despite the heat, not far off from their original predicted times.
Celebrations
After the race a number of our runners made their way to our post-race reception in Westminster, with each runner being greeted with a massive round of applause when they arrived. After showers and well-deserved massages, runners were able to relax with family and friends and enjoy some very much needed refreshments! The reception also offered a chance to show off medals, and the opportunity for United Response to show our appreciation for all our runners' hard work.
A massive thank you
Everyone at United Response would like to say an absolutely massive thank you to our whole team for their fantastic efforts – what an amazing achievement! A marathon is no easy challenge, especially in the unseasonably hot weather, and we are in awe of all of our runners. Not only have they completed the London Marathon, but they have collectively raised almost £42,000 so far. We are so incredibly proud of each and every one of them.
We would also like to thank all of our volunteers on the day including students from St Mary's University that provided massages, and St Andrew's Youth Club for the use of their Club.
Check out our photos from the day on our Facebook page.
Want to join Team United Response in 2019?
Or email fundraising@unitedresponse.org.uk for more information.
Running not your thing? Join our RideLondon 2018 Team