Meet Florence Garrett, co-captain of the Down Syndrome Swimming GB Team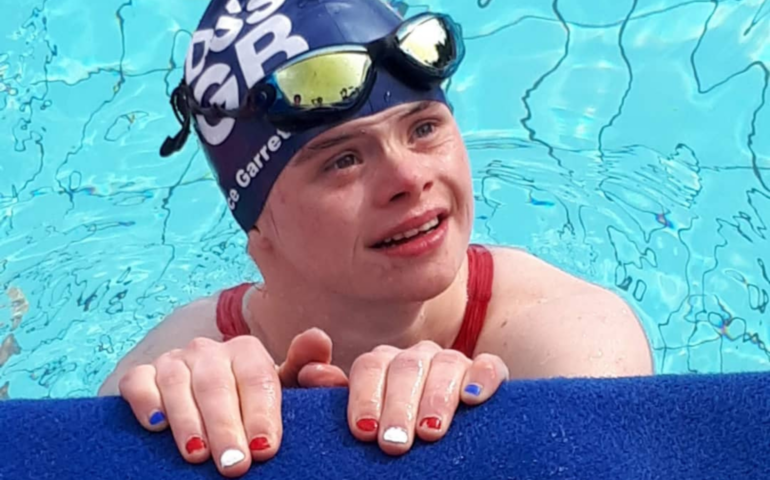 Going for gold – Florence's swimming career
Florence was born in London. With support from her family and social care professionals, she started swimming at just ten years old.
She has since collected over 100 medals and has represented Great Britain at several international competitions across the world.
Florence said the proudest moments in her career so far was winning silver and bronze medals – the first in Paris in 2017 and the second in Sardinia in 2019.
She explained that she doesn't see her disability as something that sets her apart from other swimmers:
We are all the same. If you compete in the mainstream, you still compete the same as if you have a disability.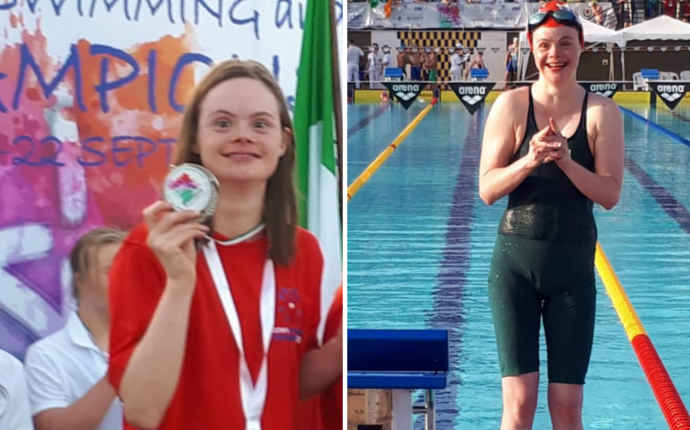 Florence became co-captain of Team GB in September 2020. She is really proud of her role and often sends motivational messages to her teammates on social media.
The team were due to compete at the World Trisome Games in Turkey last year, but it was cancelled due to the pandemic.
She explained that competitions aren't out of the question for this year:
We are hoping to go to international competitions soon but they might happen next year because of the Indian variant of Covid-19.

I think this year we will do more local competitions.
The team are also working towards the 10th Down Syndrome World Swimming Championships in Portugal, which are due to take place in October 2022.
Family, friends and lockdown hobbies
Florence is 28 and lives in Twickenham with housemates. The house has some support from Metropolitan Thames Valley housing.
She had only just moved into her own home when the pandemic and the first lockdown started. With things looking quite concerning, she flew to be with her parents in Kyrgyzstan.
Florence's mother Veronique used to be an English teacher but she retrained as an Early Intervention specialist shortly after Florence was born. Her father Charles Garrett OBE is the British Ambassador to the Kyrgyz Republic. They have five children together.
During lockdown when the pools were closed, swimmer Florence switched to online workouts including videos from YouTube star Joe Wicks.
Like many of us, Florence used Zoom to keep in touch with her friends in the UK including working on her English and Maths skills with her personal assistant Chloe.
Florence attends some of the community activities hosted by The Enterprise Hub in Teddington. She really enjoys taking part in Dance with Lucy, Keep Fit with Kat and the Speak as One bi-weekly Politics group.
She also featured in a video for our YouTube channel, talking about her voting experiences for Accessible Voting Day.
Focusing on healthy eating, Florence also used Zoom for baking classes and she has been out in the garden growing crocuses, kale and spinach.
She flew back to London last summer and has been enjoying living independently again.
What's next?
Florence is really excited to be back in the pool and training for events again.
She has a very busy schedule to get her fitness levels back up to where they were pre-lockdown:
I have a PT session every other week and I do classes at the gym – workouts with weights and a core workout every Monday.

Then I go swimming every Tuesday and Wednesday and Sunday every other week.
On Fridays, Florence coaches younger swimmers at Richmond Swimming Club.
Her advice for anyone that wants to compete at a professional level is to pay attention:

I would advise them to listen to their coaches. You just need to listen to these people – instead of mucking around in the water!

They will give [you] good advice and from there hopefully you can do more competitions in the years to come.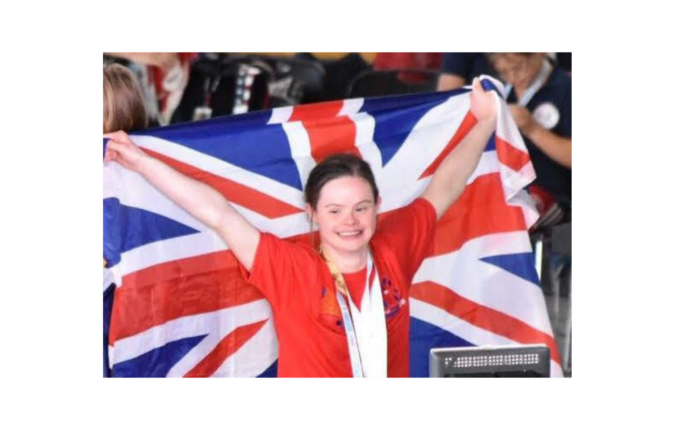 Outside of training, Florence is an ambassador for Downside Up, a British-Russian charity which provides support for families raising children with Down syndrome. The charity was set up by her mum Veronique and her uncle Jeremy Barnes.
Florence feels passionate about supporting this cause because of her own experiences.
This blog is part of our Summer of Sport series where United Response shines a spotlight on disabled and autistic athletes and speaks to sports and fitness fans across the country.
We'll also be looking at accessibility and the best ways to support people with disabilities, autism and mental health needs to take part in sports, fitness and exercise.
Jenna Lloyd is Digital Content Officer for United Response.