Meet James, a relief support worker with cerebral palsy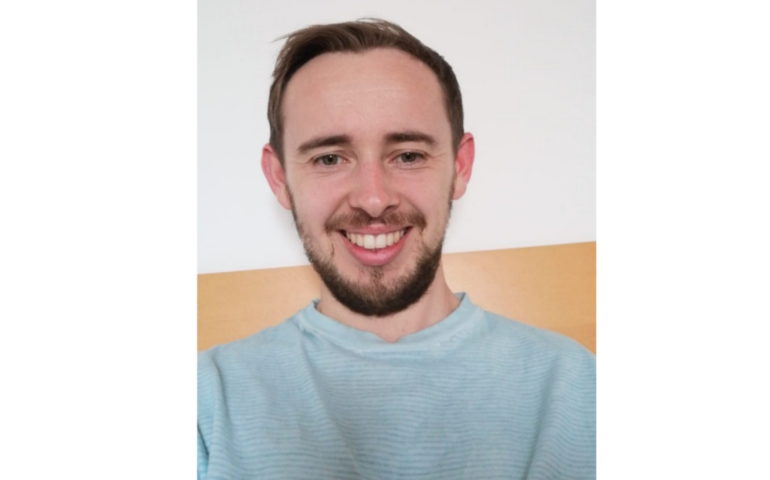 James is a Relief Support Worker from Totnes. He works across our services in Devon.
Having previously been a support worker, James enjoys the variety and flexibility of his relief role:
"Because of my cerebral palsy, I can take on as many shifts as I feel like I can handle week to week."
He believes that having the lived experience of a disability has given him a natural empathy, which really helps in the job:
I don't have autism or a learning disability but there's that kind of understanding.

If there's things that I struggle to do, they can empathise as well. It's allowed me to have that level of awareness that everyone's got their own strengths and weaknesses.
He added:
"If we need to allow people more time and space to articulate their thoughts or what they'd like to do then that's fine. It creates a positive environment where people we support feel safe and they're not being judged for who they are."
'Don't be afraid to make mistakes'
James joined United Response in September 2020 and recently participated in our Diversity Forum:
"I haven't really had many obstacles I've had to address. All of the managers are really supportive and I'll speak honestly if things aren't working for me and suggest to them what might work instead.
"One of the things that came up at the Forum was how you deal with difficult conversations with disabled candidates or employees.
"It's just about creating that open, positive space where people don't feel like they're being dictated to or being told what they need. It's not one-size-fits-all. Allow them to dictate where the discussion goes."
James said that the difficult or awkward conversations are often the most important ones.
I think we live in a culture of being worried about offending people.

If there's questions that managers or support workers feel hesitant to ask, those are the ones that disabled employees will more than likely want to talk about. Otherwise it could cause issues down the line.

Once you push past the discomfort, that's where things open up and you might learn something.
He added:
Don't be afraid to make mistakes because that's where that level of trust is developed. Whatever it is, however silly it might sound – ask the questions and have that open dialogue.
Sport and wellbeing
James has taken part in sports since he was four years old. As he got older, he attended after school clubs for football and table tennis and then joined his local football team.
At University he studied for a Bachelor of Science in Sports Performance and even went on to play football competitively for the Northern Ireland Cerebral Palsy Team:
"I played 'mainstream' football but once I came across disability sports that created a whole new sense of self for me.
"To be in amongst people that have had the same experiences and similar drives, you can relate to each other and you motivate one another. It gives you that self-belief."
Prior to joining United Response, James worked for community sports organisation Active Devon.
Sport has always been pretty central to everything that I've done. It allows people to see you for more than just your disability.

Being able to participate in sport has enabled my mobility and my social skills. Through sport I've been able to meet lots of people. It's been a really positive experience.
Thanks to his passion, James often tries to get people we support out and about and involved in sport where possible:
"They'll have more energy and get more enjoyment out of day-to-day tasks because physical activity affects your physical and mental health."
What type of person makes a good support worker? James says it's about the nature of the person who would apply in the first place:
As long as you're compassionate, approachable and wanting to make a difference then fundamentally you'll create a good rapport with the people we support.
If this sounds like you and you're ready for a new role, we have full-time, part-time and relief roles available across the country.