Meet Neil – a deaf fundraiser from Ipswich who's helping his local community to learn sign language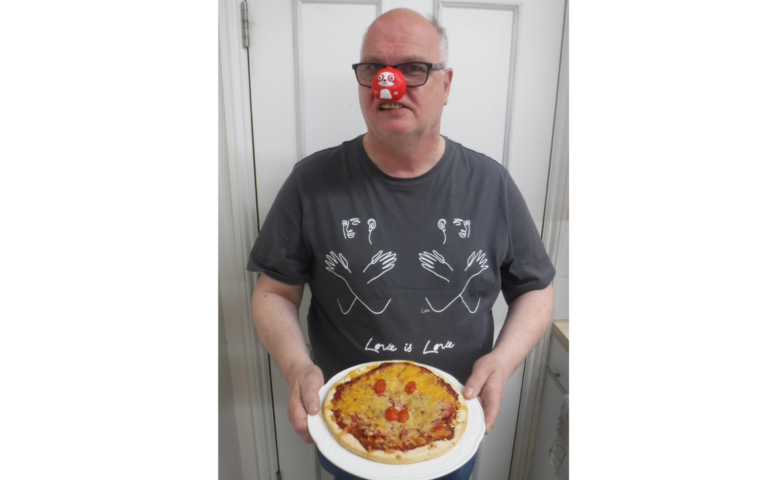 58-year-old Neil has lived at one of our Supported Living services in Ipswich since 2004.
He loves Manchester United, going out on photography walks, gardening, baking and raising money for different charities throughout the year, including Comic Relief and BBC Children in Need:
I like raising lots of money for charities.

When I get a certificate in the post or in my emails, it makes me feel good and I enjoy it.
Neil uses a diary to plan and organise his fundraising throughout the year. When he's finished, he'll count the money and take it to the bank to pay into the charity's account.
Fundraising for Red Nose Day
His most recent collection was for Red Nose Day – one of Neil's favourite events.
From 1 to 17 March, he stood outside with his charity bucket collecting donations in all weathers. Then on Friday 18 March Neil, with support worker Bernard Okyere, made special Red Nose Day pizzas for all his housemates.
Sometimes Neil sets up a stall on the driveway, selling things he's made or grown to people who pass by. For Red Nose Day, he sold store bought cakes which were cut up and packaged by staff. He managed to raise around £715 in total!
Neil's currently planting seeds in the garden so he can sell flowers on his stall in the summer. He also plans to host a Macmillan Coffee Morning in September and raise money for Children in Need in November.
A keen photographer, Neil also likes taking photos with his camera when he's out fundraising.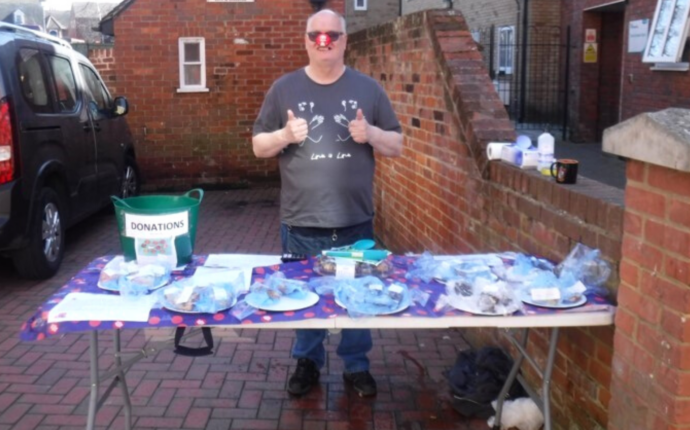 Senior Support Worker Dayle Robson has worked for United Response for nine years.
She's been supporting Neil and his housemates for about five years now but says he does the fundraising by himself:
He's very enthusiastic. He's very focused on his work and if he's planned something he'll definitely carry it through.

He also does a lot of helping around the house. Every Saturday, he goes out to pick up a takeaway for the house from his local fish and chip shop.

If I'm looking for something, sometimes Neil will find it and come and give it to me, before I've even told him what I need!
Helping others to sign
Sometimes when he's out and about, Neil carries cards with BSL on them and gives them out to members of the public, to encourage them to sign with him:
I like it if someone signs when I'm in Sainsbury's or the local coffee shop.

My friend Clare signs a little bit.
Dayle works with deaf colleagues Olivia and Lee.
She learnt British Sign Language (BSL) five years ago to help with her role:
I enjoy the variety – no two days are the same. We've got five different people here so we support each of them on different days, in different ways, doing different things.

Communication can sometimes be a challenge. You also need to know the balance between letting them lead and not taking over things. You're here to support them with their lives.
---
Do you know Sign Language or would you like to learn?
We're currently recruiting for Support Workers to join a service in Stowupland in Suffolk, supporting people with dual sensory loss and learning disabilities.
Jenna Lloyd is Digital Content Officer at United Response.