MP visits specialist arts project for people with learning disabilities in Torbay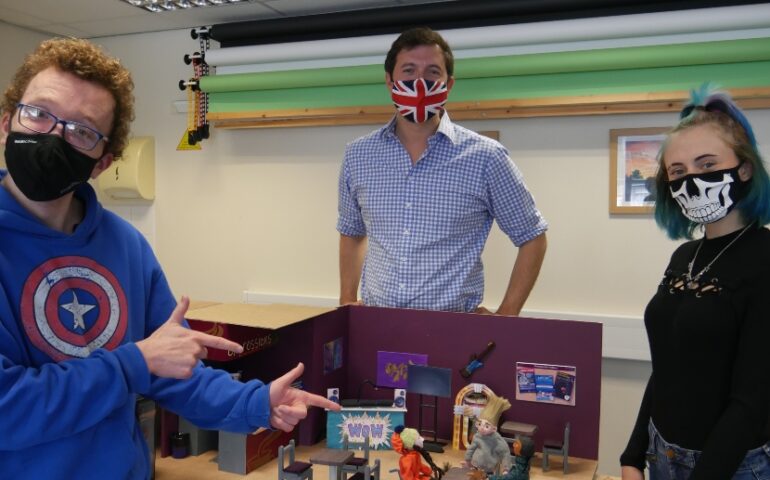 ROC Creative, run by United Response, offers local people workshops and classes in a variety of creative endeavours such as music, drama, crafts and photography, taught by experienced specialists. It also offers participants the chance to work towards qualifications in creative subjects, helping to boost their future prospects.
Visiting the service's Totnes based headquarters The Boatshed at the end of August, the MP was initially asked to share his knowledge and offer advice on how the organisation could best promote their work to the local community – instead he seized the opportunity to visit in person and witness their work first-hand.
The service has recently garnered attention for a series of stop motion animations created collaboratively by staff and people supported at the service. The short 'claymation' films have drawn attention to major issues, such as loneliness, disability hate crime and climate change.
Anthony was on hand to view the meticulously-created sets and meet some of the staff and people involved in the creation of the films. Suitably impressed he stated:
It was a pleasure to visit United Response in Totnes. Their impressive work is helping to improve understanding and support for people with learning disabilities, autism and mental health. Through their engagement they are not only helping to shatter the misconceptions around disabilities but also help people into jobs, internships and traineeship programmes.
 
I was particularly impressed by the creative work of the United Response team in creating their videos around hot topic issues like climate change, loneliness and disability in the work place.
 
In my role as Member of Parliament for Totnes and South Devon I will do all I can to support United Response as well as encourage businesses to play their part.
Mr Mangnall, was also given a sneak preview of the ambitious next project of the service – an online store selling crafts and personalised gifts made by people with disabilities.
Therese Timberlake, Head of Education, Employment and Lifelong Learning at United Response, said of the visit:
We're really grateful to Anthony for taking the time to come and see what we are trying to achieve here. We really believe in the work that we are doing and the impact it has, both in the area and more widely. Any help and support we can receive is much appreciated.
Positively Unique, the online store is set to launch in the autumn of 2021.

You can view all of Zack's adventures – the Claymation videos, on the United Response YouTube channel: