Nailsea man takes the wheel to single-handedly create 'Care Worker' car stickers for charity's key workers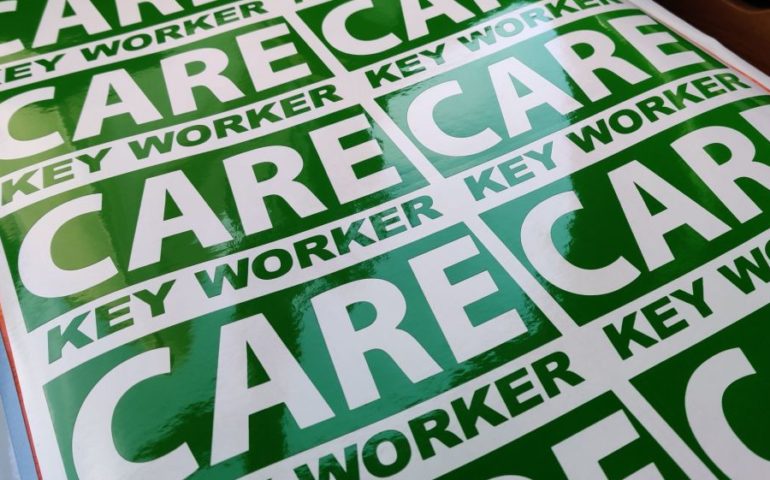 Steve Wright, co-owner of the popular Vee Dub Family facebook group of over 13,600 members from the Volkswagen community, noticed a lack of dedicated care worker stickers despite many people creating and even profiting from producing versions for NHS key workers during the Covid crisis.
After a conversation with a care worker friend, Steve decided to use his personal printing equipment normally used to make clothing, promo and other merchandise for his VW group to make her a sticker. After asking followers on his personal facebook account if other friends in the care industry would want one, he was inundated with over 200 requests within just 24 hours.
Asking only for a minor contribution towards postage whilst footing the bill for the materials and labour himself, Steve was supported by donations from his Dad and his regular employer's CEO to create more than 800 stickers.
These have since been donated to individuals, charities, local doctor's surgeries, district nurses and volunteers.
Steve's generosity towards United Response is made even more remarkable by the lack of any direct link to the charity.
I have friends with Asperger's and Down's Syndrome but hadn't come across United Response before. But through my work running a team supporting critical care software for the care industry, I speak with care providers on a daily basis and have a good understanding of the impact of Covid-19 on the sector – not to mention the normal stresses of the job. Staff like those at United Response really are working wonders.

Steve Wright
Despite the impressive nature of Steve's actions, they should come as no surprise to those who know him. In collaborating with friends who run the Great British Campout, he has personally donated over £3,300 from sticker sales to NHS Charities. Meanwhile his 'Vee Dub Family' facebook group has donated over £46,000 to charitable causes over the past five years.
Reflecting on his latest charitable endeavours Steve added:
There have been some very late nights including some 4 am finishes getting these done, and then I'm back up at 8 am with the kids before then working 9-5. So doing all of this along with the Great British Campout stickers and balancing family and work life has been interesting but so very rewarding when people start sending photos back of the stickers on their cars.
United Response is very grateful beneficiary of Steve's stickers.
For more detail on Steve's Vee Dub Family Volkswagen group visit: