National Apprenticeship Week 2022: Building the Future at United Response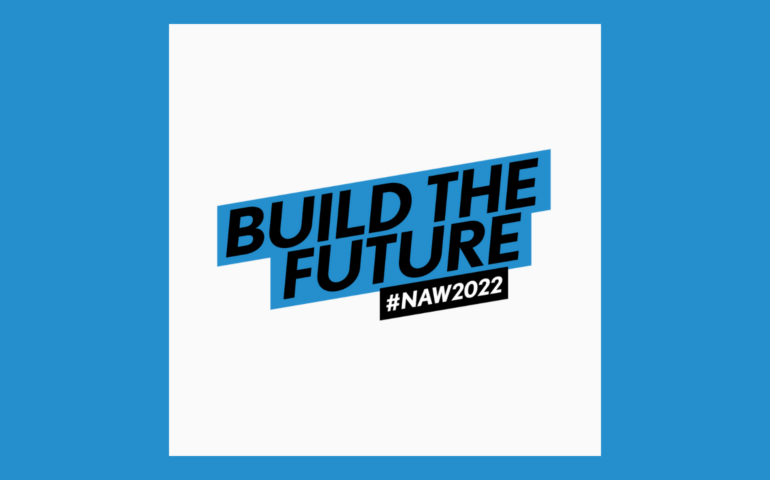 Since 2017, we've been partnered with Realise – one of the UK's largest apprenticeship providers.

During this time, we've supported 394 learners to engage in apprenticeship programmes.
Why apprenticeships?
Apprentices are a vital part of our workforce.
These recognised training schemes help our staff to learn new skills and progress in their career, so they can provide the best support possible.
Apprenticeships are a great way to help organisations keep employees committed and motivated.
They allow people to develop important skills over a number of years. This commitment to personal development is very important to both staff and employers alike.
Director of Operations in the North, Julia Casserly had a special National Apprenticeship Week message to share with our staff:
Working towards a qualification is beneficial to individuals, our organisation, ultimately the people we support and local communities.

I really want to take this opportunity to thank everybody… From your managers, admin support, our Learning and Development department, but most importantly – you.

You are the person that's had to overcome extraordinary barriers to achieve and recognise your own potential.

You've juggled home and work life in such trying times but you've come through it and you have been successful and you have been amazing in your commitment to your work.
Learning and Development Manager Jo Silkstone also wanted to celebrate our current trainees.
She said:
We have 77 achievers of the apprenticeship program across levels 2, 3 and 5 in Management and Health and Social Care programs.

I am so proud of each and every one of you.
Meet the apprentices
The apprenticeship scheme provides lots of opportunities, to current staff and to new starters alike.
Denzel
Denzel is one of our Service Managers from Bradford.
He recently completed his Level 5 Diploma in Leadership and Management for Adult Care and he was the first person to complete the training in the new standards format – something he is very proud of.
Denzel explained how he has been able to use his training whilst supporting people in his everyday work:
I enjoyed learning more about legislation and how I can use those to actually improve the lives of people we support.

One example is one of the people we support, a Local Authority was pushing to have her moved in to a 24 hour care facility due to a decline in health.

I've used that knowledge I gained from the course around legislation, of the Care Act in particular, to challenge the local authority to provide more support in the lady's home.
The Local Authority listened to Denzel and they have provided the lady with some additional support and made adaptations around her property.
Well done Denzel!
Matt
As well as providing opportunities for existing staff, we're also recruiting new starters into apprenticeship roles.
I recently started at United Response in the brand new role of Digital Content and Social Media Apprentice, based at our Cornwall services.
I left a six-year-long career as a teacher to pursue my passion for content creation and social media marketing.
I have now settled into my new role and I'm loving every minute of it.
I'm eager to continue to gain experience and qualifications through my apprenticeship with United Response, working on fun and engaging projects like this animation:
Apprenticeships to suit everyone
The stories we've shared for National Apprenticeship Week show that apprenticeships are not just for school leavers.
Apprenticeships can be a great option for anyone looking to gain new skills and qualifications. They help people to progress or change career at any age and they are particularly beneficial for those looking to get on the ladder in a competitive field.
All of our apprentices should be really proud of their achievements – we are extremely proud of them!