Over £1,300 raised at Teddington's 'Pram Race'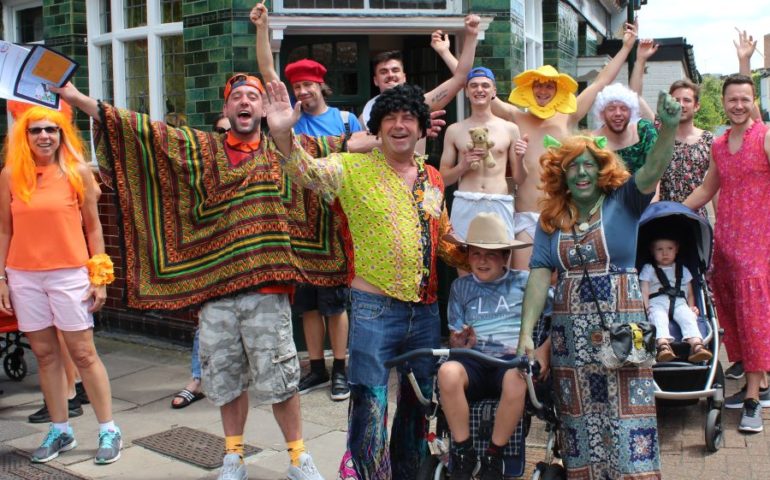 Teddington locals turned out in their droves last weekend to cheer on participants of the town's popular annual 'Pram Race' – a longstanding community event which this year raised over £1,300 for a national disability charity.
More than a thousand local people lined the streets of Teddington on Sunday 30 June to take in the frenetic race, which has been staged since 2004 and was this year being run by charity United Response.
Nine teams of between three and five people donned crazy costumes and pushed prams along a designated route, which began outside the Masons Arms pub and continued along the town's High Street.
Along the route, which was just under a mile, teams tackled surprise challenges which this year included 'Pictionary'-style speed-drawing and eating doughnuts hanging from trees.
A group of 25 volunteers, which included people with learning disabilities supported by United Response, helped to facilitate the race and promote the charity's vital contribution to the local community.
At the end of the race – which despite its name is not a rush to the finishing line – Richmond's Deputy Mayor, Councillor James Chard, handed out prizes to winners of the challenges and also to the team with the best costumes.
United Response's Matthew Campbell, who coordinated the race, said: "We had an amazing day and I'm really proud that we and people we support could play a part in such an established local event. At United Response and particularly our Teddington service The Enterprise, we are all about building strong bonds and playing a key role in the local community."
He added "We couldn't have done it without the support of a number of local businesses who donated prizes and offered their services for free – a true testament to the strength and unity of the local community."
United Response holds a number of regular events at its Teddington enterprise hub at Rowan House, including visits from Liberal Democrats leader Vince Cable. Vince recently invited people supported by United Response to Parliament to see the House of Commons, some for the first time in their lives.
For more information on how United Response supports people with learning disabilities in the area, contact Matthew Campbell on matthew.campbell@unitedresponse.org.uk. Alternatively, call the charity's Teddington office on 0203 727 0601.