Popular Teddington 'Pram Race' returns for 2019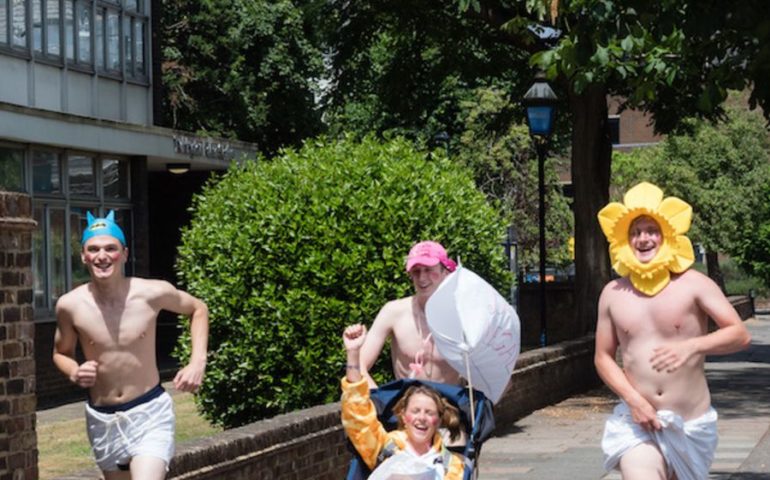 A popular community event and longstanding Teddington tradition is returning in style this June – and is expected to be bigger and better than ever before.
The Teddington Pram Race, which local people have enjoyed since 2004, is taking place on Sunday 30 June and is this year being run by national learning disability charity United Response.
The pram race is a staple in the Teddington calendar and takes place on the same day as the Teddington Fair each year.
To take part in the 'race', teams of between three and five people must decorate a pram and dress up in crazy costumes before making their way along a specific route. The route, which is just under a mile, begins outside the Masons Arms pub and continues along the town's High Street in front of cheering crowds.
The race, which despite its name is not a rush to the finishing line, finishes at the location of the fair by Udney Hall Gardens on Langham Road.
Along the route there are a number of checkpoints, at which teams must complete surprise challenges to separate the best from the rest.
United Response's Matthew Campbell, who is coordinating the race, said: "We are absolutely thrilled to be organising this year's Teddington Pram Race and steering it to success for 2019. At United Response we're passionate about investing in the local area, and this event is a true cornerstone of the community's calendar.
"We're very proud to be bringing local people together to have some fun, celebrate the town's pride and raise some money to put back into the community."
National charity United Response, which supports people with learning disabilities and autism across the country as well as in Teddington itself, is looking for volunteers to help on the day.
The charity holds a number of regular events at its Teddington enterprise hub at Rowan House, including visits from Liberal Democrats leader Vince Cable. Vince recently invited people supported by United Response to Parliament to see the House of Commons, some for the first time in their lives.
For more information on the 2019 Teddington Pram Race, contact United Response's Matthew Campbell on matthew.campbell@unitedresponse.org.uk. Alternatively, call the charity's Teddington office on 0203 727 0601.