Professional swimmer Florence Garrett loves the Paralympics but would like better inclusion for athletes with Down syndrome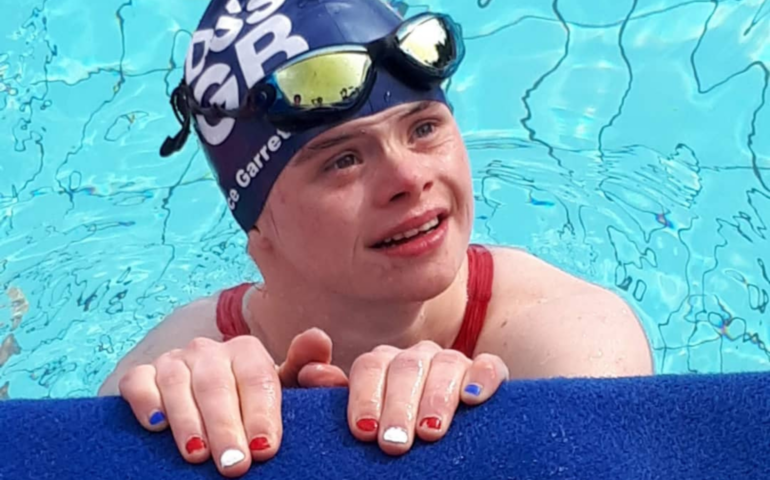 The Paralympics is an international sporting event for professional athletes with disabilities.
In each sport, athletes are put into different classes and categories, depending on if the athletes use a wheelchair, have limb or sight loss or what is called an 'intellectual impairment'.
The 2020 Paralympics was postponed because of the Coronavirus pandemic.
It was held in Tokyo from the 24 August to the 5 September 2021 and it was shown on television on Channel 4.
Because of Covid, lots of athletes at the Paralympics wore face masks. Normally they do not.
It was hard for the athletes to train during the pandemic because there is no audience to show what you have been doing. Also because venues were shut during Covid, athletes were training at home.
This year, the Paralympic team for Great Britain won 124 medals. At the 2016 Games in Rio, they won 147 medals.
Why I like the Paralympics
My favourite sports to watch are handball, wheelchair basketball and wheelchair volleyball.
My favourite Paralympic athlete is Ellie Simmonds because she has won so many medals in previous competitions.
In Rio 2016, she received a gold medal in the Individual Medley event with a time of 2.59.81.
As a professional swimmer, Ellie is my idol. I have met her and she is a lovely person. I noticed that she is now retiring from her sport which is disappointing.
Athletes with Down syndrome
People with Down syndrome can compete at the Paralympics in the intellectual impairment (S14/SB14) category but only if they score low on IQ tests.
This is unfair as a lot of athletes with Down syndrome have high IQs.
Lots of people are campaigning for the categories to be changed so athletes with Down syndrome like my DSS-GB Team will have a chance to compete.
We have won medals in international competitions before. I myself have won silver and bronze medals.
The International Paralympics Committee started a consultation about the different categories in January 2021.
This will last for three years so we should keep campaigning and tagging @Paralympics on social media.