York Central MP joins major city businesses on visit to dedicated disability employment hub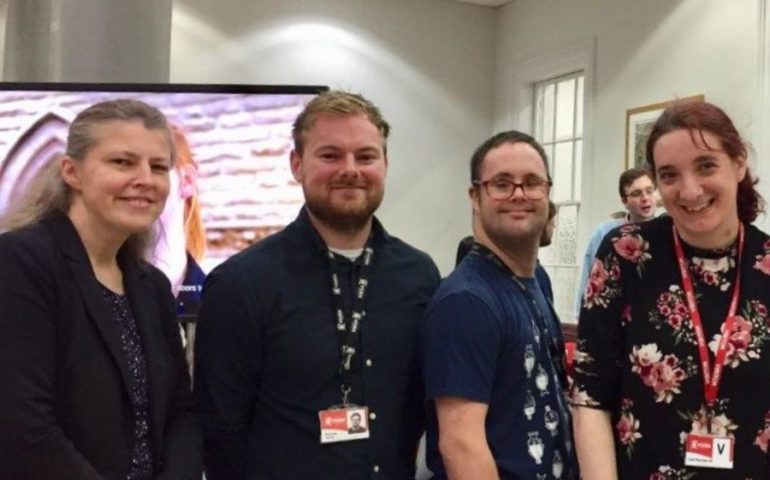 Rachael Maskell, MP for York Central, has joined some of the city's leading employers to see how a national charity helps people with learning disabilities, autism and mental health conditions in York to develop their skills and find a job.
Along with representatives from John Lewis, McDonalds and Costa Coffee, the Labour MP attended learning disability charity United Response's popular 'Café West' service – which was opened up to local employers to showcase its efforts to bridge employment gaps by supporting disadvantaged people to enter, sustain or progress in work.
United Response was holding the event for the first-ever time at Café West, set within York Council's West Offices on Station Rise, last Friday (28 June).
Café West helps local people with learning disabilities to develop and improve their skills within catering and hospitality, helping those keen to work within the industry. United Response's wider supported employment service helps people to prepare for interviews and jobs.
Ramsay Taylor, Service Manager at United Response, said: "Our event showcased the fantastic work in York bringing local employers together to share their experiences of employing people with learning disabilities. It was fantastic to see the city's businesses encouraging other employers to create new job opportunities for the people we support."
Rachael met local councillors, United Response staff as well as people with learning disabilities and autism who have been supported to find work in the local area. She was also shown how United Response's work supports local employers and businesses to recruit from a largely unused talent pool.
Rachael Maskell MP said: "Organisations like United Response are determined to give absolutely everyone a chance to be fulfilled by work, which is crucial as everybody has different skills and talents to offer. Here in York, we are grateful that people with learning disabilities or autism are being given the opportunities they deserve."
United Response is committed to providing dedicated employment support to people with learning disabilities. In the UK, more than two-thirds (65%) of people with learning disabilities want a job yet only 6% have one.
City of York Council was one of nine national local authorities selected to work alongside the DWP on a regional pilot employment project in 2017, launched in response to a 2016 Government social care green paper. The initiative aimed to improve the provision of bespoke employment support to people with learning disabilities, autism and mental health conditions across the country.
As dedicated supported employment provider for the council, United Response delivered York's pilot and proudly helped more than half of those it supports locally into work. The pilot ran for eighteen months and concluded in May 2019.
For more information on how United Response supports local people into work, contact Ramsay Taylor on ramsay.taylor@unitedresponse.org.uk.