Sam Holness: the triathlete with the superpower of autism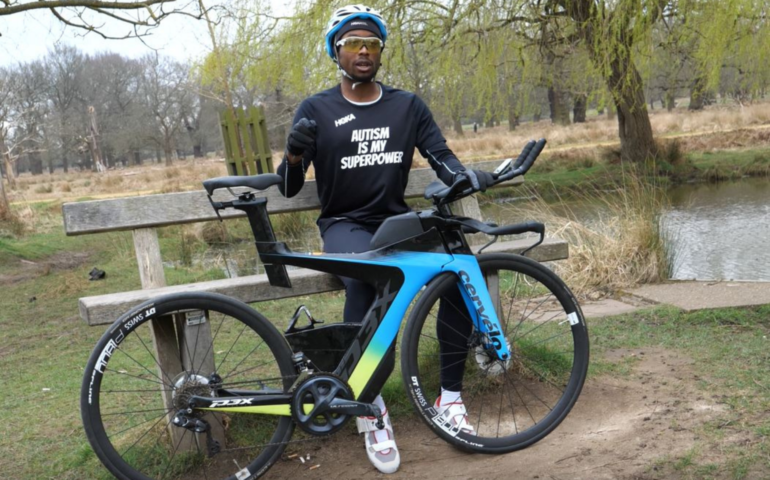 29-year-old Sam lives in Kingston upon Thames with his mum Marilyn and dad Anthony, who also happens to be his coach – as well as being his manager, photographer and taxi driver!
Sports at school
Sam's interest in sports goes all the way back to his childhood.
He enjoyed PE at school but because of his autism, his teachers underestimated his sporting ability.
Sam has been swimming since he was three years old, but when his school held a swimming gala and Sam put his hand up to take part, they sent a letter home asking if he could swim.
Anthony explained:
They had no expectation of someone on the spectrum being able to swim and they didn't think he understood the question.

For most people, until you have a child or a family member with a disability, it's not something you know about but it's also lack of empathy.
After school, as a teenager, Sam practiced judo as a way to overcome his discomfort with close physical contact before heading to St Mary's University. He graduated in 2016 with a 2.1 in Sports Science.
Sam's dissertation was all about how teachers and coaches can work effectively with autistic young people to encourage them to participate in sports.
Realising his passion for running, he took part in several 10km races before taking part in his first triathlon at Dorney Lake in 2017.
Fast forward to today and Sam is competing in events all over the world.
Last September, he took part in the Ironman 70.3 World Championships triathlon in St George, Utah.
This weekend, he's running the Manchester Marathon as part of his mission to become the first openly autistic athlete to complete a full Ironman triathlon.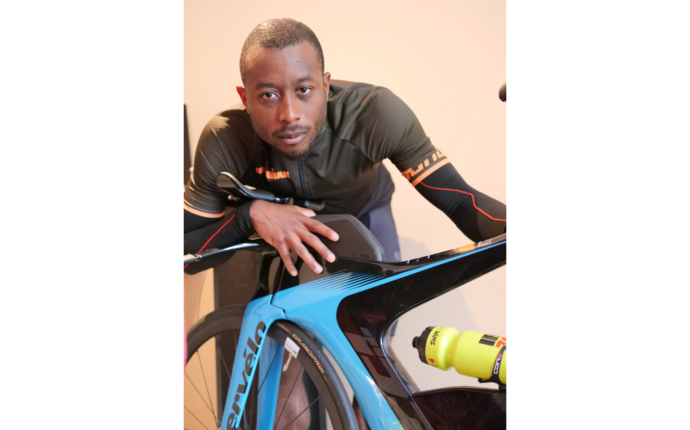 Changing perceptions
Sam also competes in Marvel's Superhero Tri – currently the UK's only triathlon for people with disabilities.
But as a university graduate, Sam's high IQ means he usually has to compete against neurotypical athletes.
According to recent figures from Triathlon associations, just 2% of triathletes are from BAME (Black, Asian or Minority Ethnic) backgrounds.
Official statistics from Sport England suggest that 95% of black adults and 80% of black children do not swim.
Being black and autistic, Sam wants to see more diversity and inclusion at triathlon events.
Anthony said:
What Sam and I are hoping to do is to change perceptions.

Not just about doing sport but for employers to understand that people who are neurodiverse, people who are on the spectrum can do more. Did you know that only 7% of graduates with autism are in full time employment?

If he gets to become professional or finishes on the podium at the World Championships one year, then there'll be no one like him in the world.
Sport and wellbeing
Sam trains up to 25 hours a week. In a typical day he runs around Richmond Park, followed by a 2000 metre swim and then a 25km cycle as well as factoring in strength and conditioning exercises.
Anthony explained how this works with Sam's autism:
We've realised it's not so much about the racing as it's about the training. Sport training is repetitive tasks, mastery and its Sam's special interest as well.
Like many athletes, nutrition is also key for Sam, so he follows a gluten-free diet and avoids sugary and processed foods.
He cooks himself healthy meals with lots of protein, fruit and vegetables… but sometimes gets a pizza from the local as a treat!
Doing regular exercise has also meant that Sam is able to relax more and he sleeps better and for longer – something that many neurodiverse people struggle with.
With such a strict training regime, a good night's sleep is even more important because it's the time when Sam's body and mind are recovering.
Active and autistic
As an ambassador for Ambitious about Autism, Sam hopes that he can inspire others on the autism spectrum, and other black people, to take up a sport.
His top tips for those who want to do more exercise are:
Get off your seat and on your feet! Stop watching telly and do some exercise.

Cut out any processed or fatty food, throw away all the alcohol and fizzy drinks and eat your fruit and veggies instead.

Go to the gym every day, seven days a week – get on the treadmill, row, cycle and go for a swim.
You can follow Sam's progress on Instagram at @samholnesstri and his website is: www.samholness.com
This blog is part of our Summer of Sport series where United Response shines a spotlight on disabled and autistic athletes and speaks to sports and fitness fans across the country.
We'll also be looking at accessibility and the best ways to support people with disabilities, autism and mental health needs to take part in sports, fitness and exercise.
• Jenna Lloyd is Digital Content Officer for United Response.