Sarah Newton MP visits learning disability supported employment service in Truro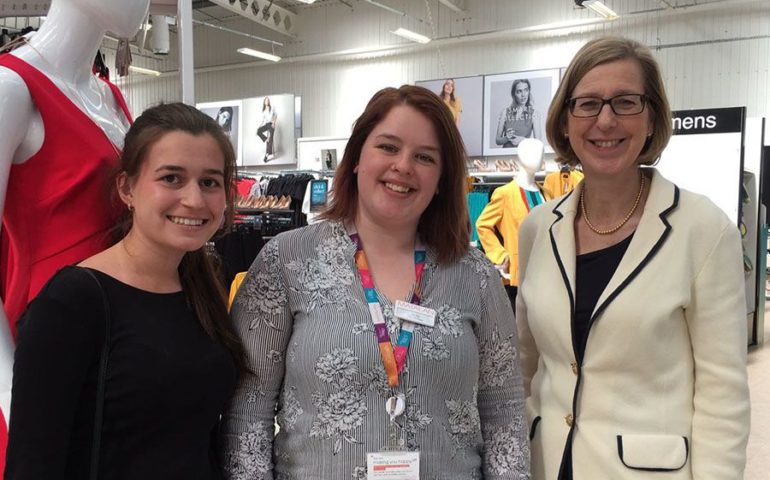 Minister of State for Disabled People, Sarah Newton MP, last week visited a national charity's dedicated service which helps people with learning disabilities in Cornwall to find and keep a job.
The Minister, who is also the local MP for Truro and Falmouth, was given a tour of United Response's supported employment unit in Truro on Thursday 10 May afternoon.
She met staff, United Response's chief executive and people with learning disabilities and mental health needs whom the unit has helped secure jobs in the local area.
The Minister was shown the value and importance of supported internships for vulnerable people, as well as the significance of employer engagement.
United Response, a leading charity which provides bespoke support for around 3,000 people with learning disabilities nationwide, runs its supported employment service to help develop the skills and confidence of some of the most vulnerable adults and young people in society.
The unit also supports local employers to diversify their workforce and gives those on work placements the best possible chance of securing permanent positions across Cornwall.
Sarah Newton MP, Minister of State for Disabled People, said: "Disabled people can bring unique skills and talents to an organisation, and it was fantastic to see first-hand how United Response are supporting local disabled people into a job that's right for them.
"I would encourage all employers in Cornwall to follow United Response's lead and make sure they're not missing out on this untapped pool of talent."
Tim Cooper, chief executive of United Response, said: "It was fantastic to welcome the Minister to our supported employment service in Truro. We appreciate her taking the time to visit and see for herself the clear value of supporting disabled people in this way.
"Adults and young people with learning disabilities suffer from a distinct lack of opportunity and choice when it comes to employment. The individuals the Minister met at our service are great examples of how, with the right support, disabled people can make positive contributions to their local community and live their lives to the full."
ENDS
Photograph (L-R): Jess, a United Response intern working at Matalan, Holly, her manager at the store, and Sarah Newton MP the Minister of State for Disabled People.