Support workers transform garden shed into Santa's grotto for people with disabilities and autism
Support worker Mandy Nichol came up with the idea to convert the shed at Hutton Avenue, one of our Supported Living services in Darlington, into a Santa's grotto back in November:
As a team we've kept good spirits to maintain the quality of life that people we support deserve.

However due to the restrictions we've had and the ones that are going to come in the future, we felt that morale was getting a little low.

We decided to convert the shed into Santa's grotto so the people we support and their families could have something extra special and to lift everybody's spirits for Christmas.
Transforming the shed
Despite not having a budget, our amazing staff eagerly donated their spare time, money and materials to help bring the grotto project to life.
Some brought in decorations like baubles and tinsel and one of the residents was supported to make a wreath.
They laid carpet on the floor so the grotto felt cosier and put in a small Christmas tree.
Mandy made decorations from clay including carrots for the reindeer, cookies for Santa and even reindeer poo!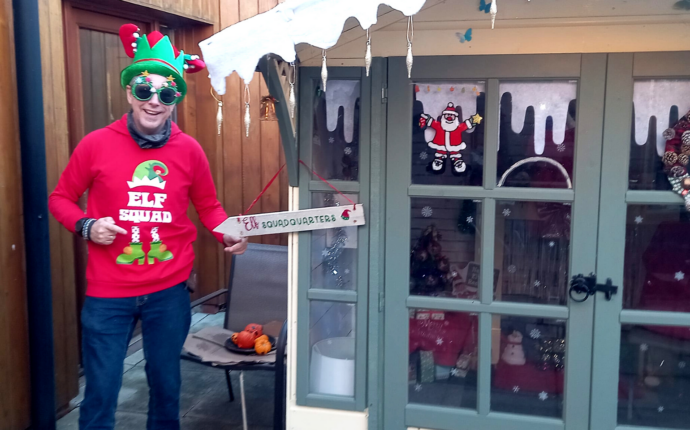 Community spirit
Once it was ready, support worker Mark Thompson donned his Santa suit and Craig Lee, part of the Outreach team, joined Mandy as one of the 'naughty elves'.
The team also had some help from members of the local community who added some extra details to help bring the grotto to life.
The local gardener lent a hand, building an impressive fireplace and chimney from scrap wood and wallpaper ends.
Mark's daughter, who works at a local fabric shop, donated some voile to decorate the roof.
The end result was quite a transformation!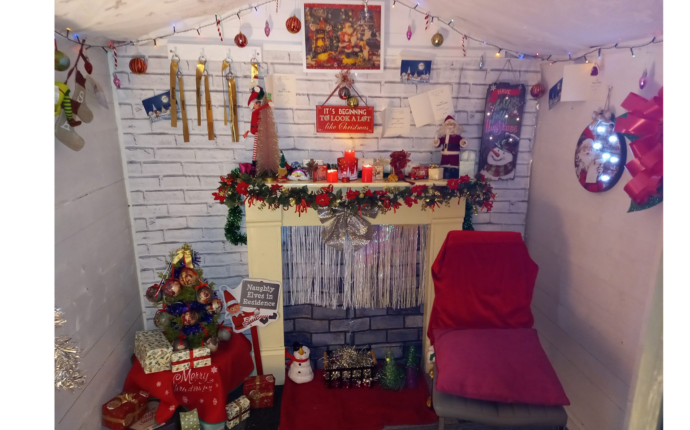 Opening the grotto
People we support and their families were thrilled to meet Santa and experience something magical in their own back garden.
Paul, who is supported by United Response, agreed:
I liked Santa and the grotto and I got presents.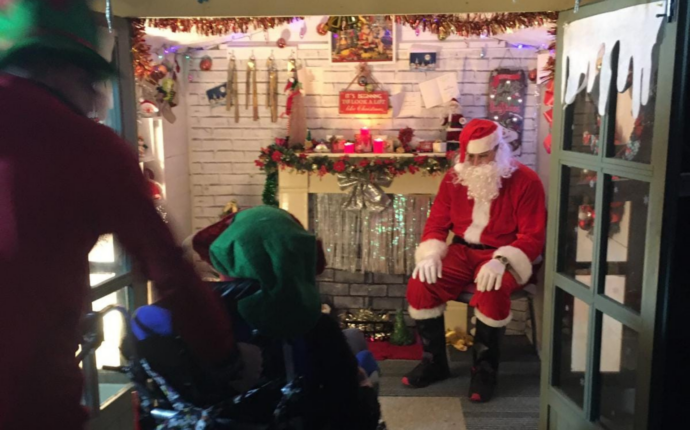 Mandy said:
It was heart-warming. Everybody just got so much out of it.

The people we support were so happy. One of them, she fell in love with Santa!

Even some of the parents joined in with some saying it was 'one of the best Christmases they'd had in a long time'.
This week, in an effort to boost morale, some of the staff brought their children to meet Santa and they were given selection boxes to take home.
Santa might also pop in to the grotto on Christmas Eve, bringing people we support even more smiles just before the big day…
Thank you to all our amazing staff, who help make magical moments like these for people we support, not just at Christmas but all year round.
This content is part of our Christmas2021 series.
Jenna Lloyd is Digital Content Officer at United Response
---
Want a rewarding career?We're recruiting across the country now. From support workers to area managers, take a look at the opportunities available in your area. Search United Response jobs
---
Help us bring some sparkle to the people we support this Christmas
Your donation will have a huge impact on the lives of the people we support.
£25 could pay for an hour of job coach support to help someone with autism into a job
£50 could supply tools such as a wheelbarrow for one of our horticulture projects such as Boscawen Farm in Truro, or our allotments in Bristol and Blackpool
£100 could help fund a two hour activity session for people we support such as karate, keep fit or dance
£125 could purchase two new microphones for our community radio stations