Team GB wheelchair tennis pro Ruby Bishop campaigns against discrimination in PE lessons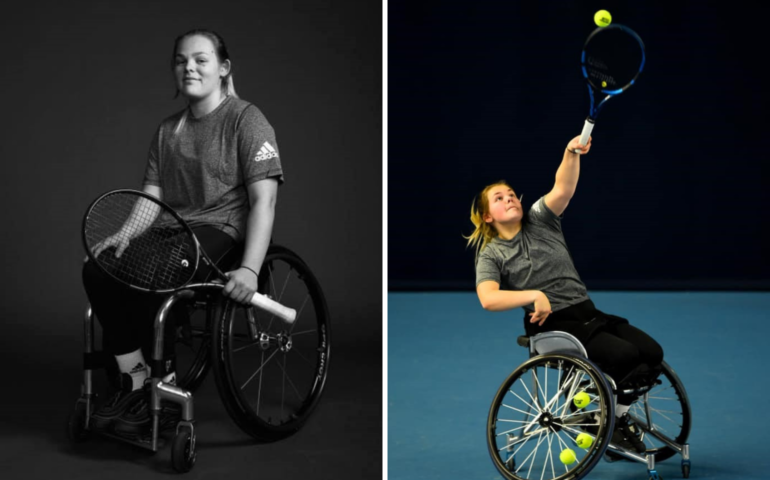 Ruby Bishop was diagnosed with cerebral palsy hemiplegia at two years old.
Despite her disability, she was very active as a child and played professional sports from a young age.
Ruby currently ranks third in the world and first in Great Britain for girls' wheelchair tennis. She aspires to represent Team GB at the 2024 Paralympics.  
But getting to this point proved difficult for Ruby, who was left out of PE lessons at school.
Ruby's sporting career
As a young child, Ruby really enjoyed playing disability football and was a fast runner.
Whilst in junior school, she had multiple operations and recovering from these meant that she often couldn't take part in PE lessons.
The operations also affected Ruby's mobility. She began using splints or a wheelchair (depending on the activity) so she started looking into wheelchair sports.
When she was 10 years old, Ruby started playing wheelchair basketball and in just three years, she was selected for the Women's Juniors.
Not satisfied with one sport, teenage Ruby also started playing wheelchair tennis around the same time. Within a year, she was put on the Tennis Juniors programme.
But despite her success, Ruby was still sitting out of PE at secondary school:
I never did PE throughout any of my schooling. They would never include me and I'd just go and sit in the 'special needs room'.

I didn't like that label because outside of school, at that point I was playing basketball and tennis.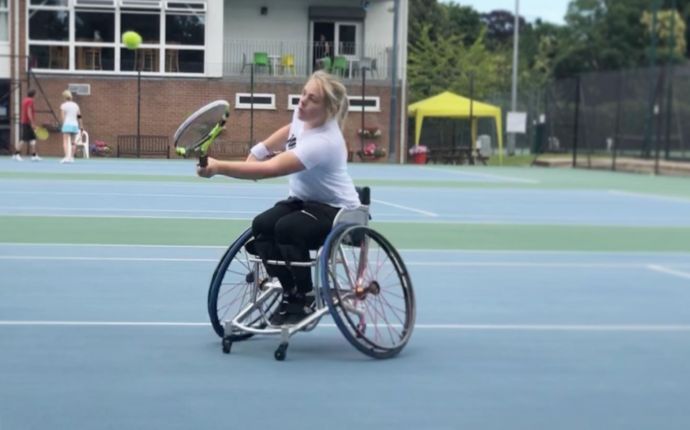 Campaigning for inclusive sport lessons
Reflecting on her experiences, Ruby has launched a campaign to encourage schools to improve sports inclusion for students with disabilities and autism:
The frustrating thing was that I knew I could do it if they made more effort. They didn't care – they didn't even want to try.

Not once did anyone come up to me and ask 'what adaptations can we make?'…
Ruby put together a booklet for teachers in her area, which includes Norfolk-based clubs and groups and links to some videos that have suggested adaptations for activities.
The booklet also asks questions such as: "Do you make adaptations for this student or do they just sit out?"
She hopes that this will encourage schools across the country to improve disability inclusion in sport:
It's to try and make schools more aware that there are things that they can do.
As schools across the country prepare for Sports Day, Ruby has created a poster suggesting how they can better include and engage students with disabilities.
Norwich MP supports Ruby's campaign
Ruby's campaign has gained the support of Norwich North MP, Chloe Smith.
Ruby first made contact with Chloe last year when she needed to access outdoor tennis facilities for training during lockdown. (Elite athletes were permitted to do so.)
When Ruby launched the campaign, she arranged a Zoom meeting with Chloe.
Chloe agreed that more needs to be done to make sure all students are being included in PE lessons.
The Norwich North MP has since written to headteachers in her constituency, urging them to back the campaign with Ruby's booklet attached.
Disability not inability
Ruby suffers with complex regional pain syndrome and still experiences fatigue.
She explained that a lot of people don't fully understand her disability – even doctors:
To them, it seems like nothing whereas there are a lot more things going on that they can't see.

It makes it difficult for people to understand the extent of my disability because I'm actually the opposite of textbook cerebral palsy.
Outside of training, Ruby is a qualified assistant coach at Tennis Able and she volunteers with the Community Sports Foundation.
She also coaches sessions for Active Norfolk which hosts a specific Adaptive Games for disabled athletes.
Ruby believes that there is an activity out there for everyone, regardless of disability status:
Wherever you are in the country, there's going to be some sort of disability program. A lot of research online is probably the best way to go about it.

But it is possible – the Paralympics wouldn't exist if disabled people couldn't do sports.
This blog is part of our Summer of Sport series where United Response shines a spotlight on disabled and autistic athletes and speaks to sports and fitness fans across the country.
We'll also be looking at accessibility and the best ways to support people with disabilities, autism and mental health needs to take part in sports, fitness and exercise.
Jenna Lloyd is Digital Content Officer for United Response.