The United Walk: our stories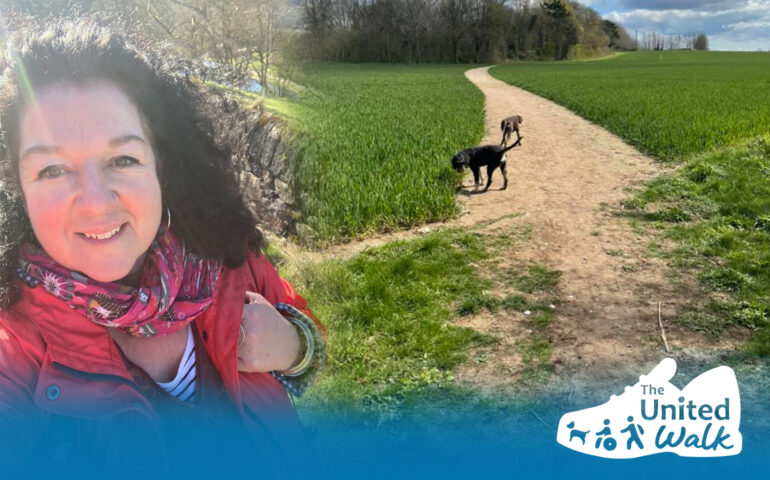 Teams across the country took on their own challenges of walking 5, 10 or 20km each, and between them they covered over 213 kilometres.
Those taking part have raised an incredible £921 so far and donations are still coming in!
Top of the leader board was our Head of Healthcare Alison Worsfold.
Exploring her local area, Alison's walks added up to an incredible 85.6 kilometres!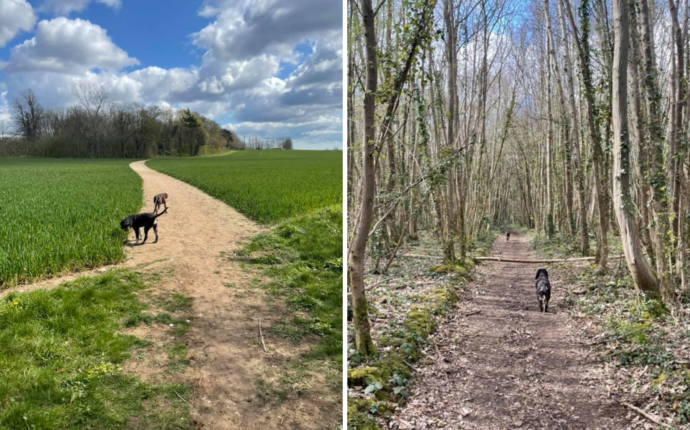 Also taking part was Matt Campbell, Team Manager for The Enterprise Hub in Richmond.
Here's Matt's story:
I had decided to take on The United Walk and had planned the mammoth task of walking from Richmond to London Waterloo – 11.1 miles isn't that far, right?

But that was as the crow flies. Imagine my shock when I realised the river route I had decided to follow along the Thames added an extra five miles on to the trek…

The Thames signifies much more than the theme tune to EastEnders. To me, it shows the flow of life, always flowing and unstoppable, each water particle working together towards a common goal. It reminds me of the support shown by United Response and their staff. I have spent many a days by Teddington Lock with those I support, having a picnic and admiring the wildlife on the water.

So there we had it – the route was mapped, my shiny red cowboy hat was gleaming and I wore the United Response t shirt proudly…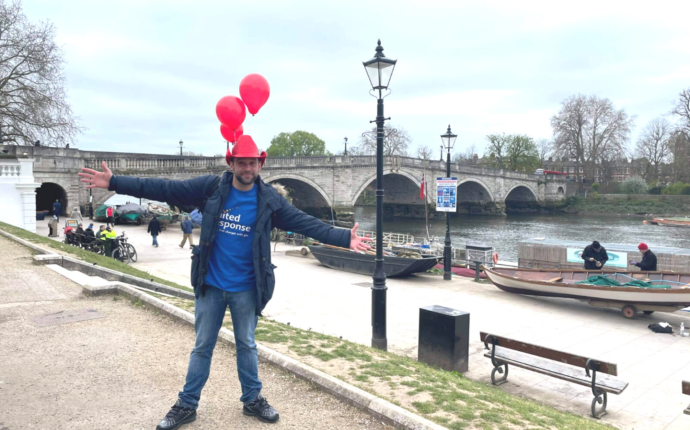 The weather held out and the blisters had yet to form…That was until I had Kew Bridge in my sights.

As I walked along the path, I could see a small group of people gathered looking over a steep verge. As I approached I could see a dog (later found out to be named Indigo) managed to get himself stuck on the bank of the river. The owner (later introduced as Matthew) was desperately trying to coach the dog down. Unfortunately Indigo was stuck.

I took off my bag and hung down the ledge to offer some support. After some soft calls and some juggling with a lead, Indigo was pulled to rescue. Matthew was extremely grateful and joined me on some of the walk. We discussed the work that United Response do and the support we provide. To my amazement Matthew and Indigo had made a very generous donation of £100. I was taken back and a little emotional.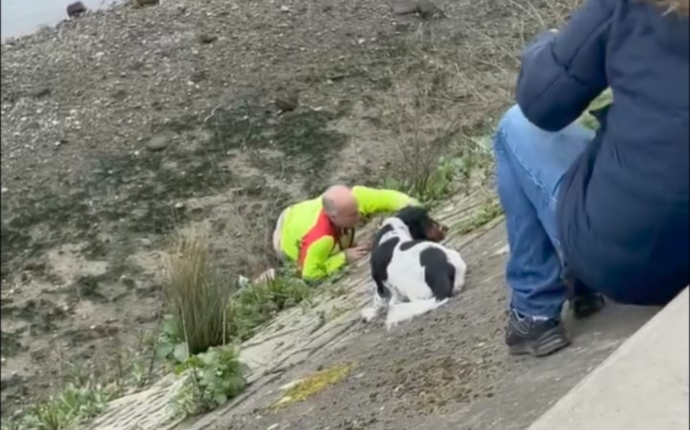 The next mile stone I reached was Hammersmith Bridge. Here I decided it was time for a break and a switch of head dress. I had my lunch of left over chicken from the previous night and put on my pink wig, my desired outfit for the rest of the journey. With a full stomach and rested feet it was time to push on…

When I finally got to Waterloo Bridge, a wall along the south embankment had been converted into a Covid Memorial Wall. Red love hearts with messages had been left. I took off my silly hat and paid my respects to all those that lost their lives to the pandemic. I left a message from United Response and thanked all of our staff for their commitment during the last 12 months. I left the wall with some very strong emotions and the urge to push on.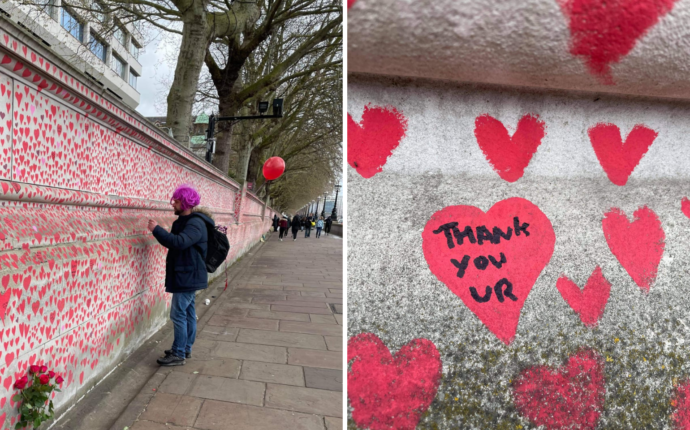 My final bridge was in sight. I pushed on the last 100 metre and had made it. I collapsed as I got to the London Eye. With my legs and feet burning, I knew I had achieved my goal, 16.8 miles in total in 5 hours and 3 minutes. I had one final look at how much I had raised and after some donations from friends and family, I had smashed my £100 target. I had raised £150 and was very proud of myself.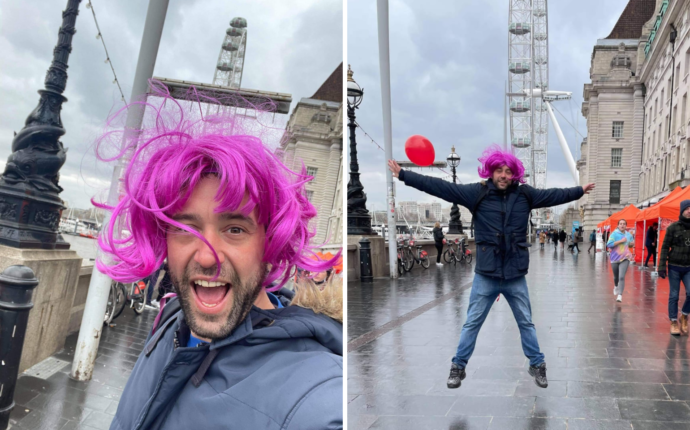 We also received some fantastic photos from Catherine Moore – Area Manager for United Response Greater Manchester.
Catherine was out walking whether it was snow or sunshine!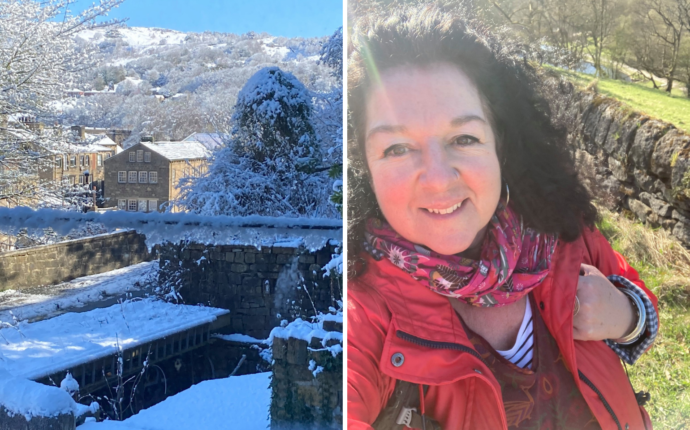 Once again we'd like to say a huge well done to everyone who took part in The United Walk and everyone who donated.
Your generous contributions will help us to continue to improve the lives of people with disabilities, autism and mental health conditions across the UK.
If these stories have inspired you to take on a fundraising challenge of your own, why not take part in one of our upcoming fundraising events?
All the money you raise goes to help the people we support live their lives to the full.