United Response fundraisers take on the Great North Run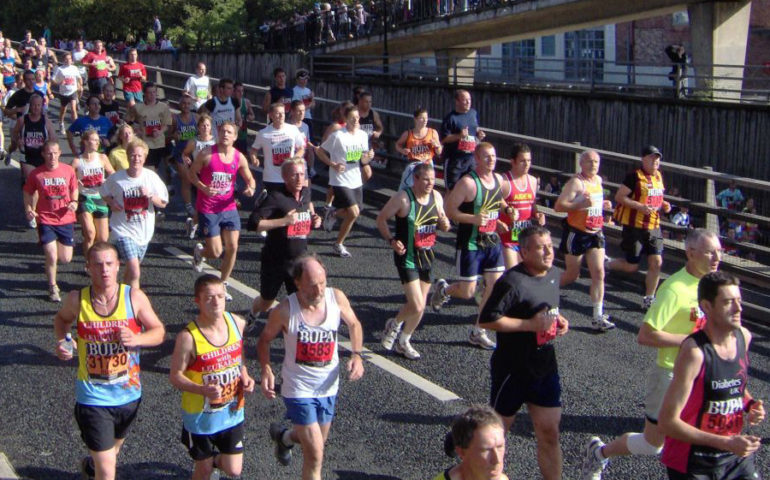 This Sunday, 9th September, United Response has two brilliant fundraisers taking part in the Great North Run to raise money for United Response.
Paul Houghton and Danielle Bond will be pounding the streets of Newcastle and South Shields to complete the event, the largest half marathon in the world. Here Paul and Danielle tell us why they decided to take part in the event and chose to raise funds for United Response.
"I have seen nothing but determination to champion the rights of the people we support"
Paul works as a Health and Safety Advisor for United Response and says:
"Since starting work for United Response in January 2018 I have been immediately moved by the level of care and dedication of every staff member, the continual strive for equality of rights, and the care for the people we support: I have seen nothing but determination to champion the rights of people living with disabilities and improve their lives in a real and meaningful way. I have seen many of the centres, supported living houses and support buildings, and have been struck by how hard everyone is working.". It is these visits that have inspired Paul to fundraise for United Response: "The joy that activities, trips and support to work bring to the people we support is a real privilege to witness, but I also know how much more we could achieve with better funding and resources.".
"I have witnessed first hand the wonderful work United Response does in York"
Danielle is equally impressed by United Response and is a frequent visitor to Cafe West in York, one of United Response's Supported Employment initiatives. Here people with learning disabilities, mental health needs and physical disabilities are given the opportunity to learn new skills in a safe but fully working cafe environment, all while delivering delicious food to the many visitors. Danielle calls the work here "amazing", and has so far manged to raise almost £500 to help us to continue providing brilliant services like Cafe West. "I'm very pleased to have raised money for a wonderful charity that does a lot of good work locally" says Danielle.
Show your support
Both Paul and Danielle are continually grateful for any donations you can make to their fundraising pages.
Donate to Paul's fundraising page
Donate to Danielle's fundraising page
Inspired to take on your own fundraising challenge? Take a look at United Response's fundraising events page to get some more inspiration.
Everyone at United Response will be rooting for Paul and Danielle on Sunday – best of luck both of you!