Work in the time of coronavirus: people with learning disabilities share their stories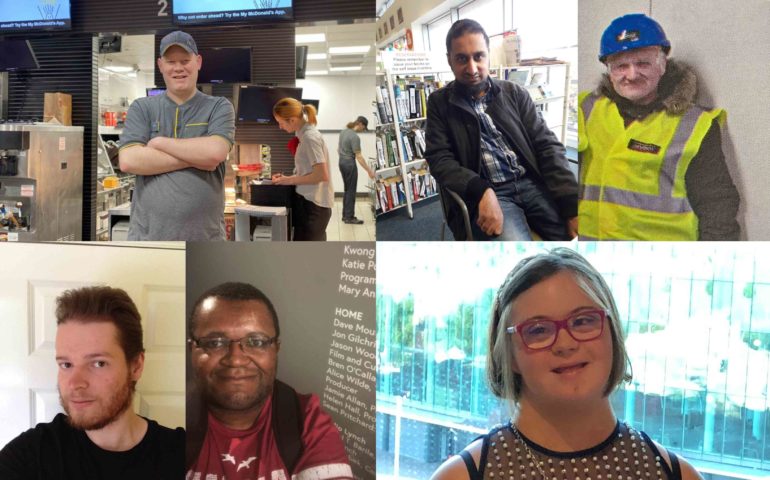 The coronavirus pandemic has changed work for everyone. But for people with learning disabilities, who already face big barriers to work, it can be especially hard.
Our supported employment teams across the UK support people to find, and succeed at, a job that is right for them.
For Employability Day 2020, they've taken over our Twitter account to share the experiences of some of the people they support.
Furloughed
Some people have been furloughed, and are missing their coworkers and routine. Read their stories on Twitter.
Looking for work
Others are facing new, bigger barriers to finding a job. Hear what it's like for them.
Key workers
And others are busy working and dealing with new challenges as key workers during the crisis. Learn about life as a key worker with a learning disability.
Tony's story
A few years ago we supported Tony to find a job, and now he's a key worker at a B&Q in Greater Manchester.
In 2016, Tony lost his job because the place he had worked at for 16 years closed down. He took it hard, and lost his hard won self-confidence. "You just feel like you've failed" Tony said.
Regaining confidence
In 2017, Tony started working with a job coach at United Response. At the beginning, he was very nervous and shy. His job coach linked him up with a local organisation who run a 12 week course for people with learning disabilities to learn work skills in a café.
After the course, Tony found a job he wanted at his local B&Q. His job coach helped him apply and prepare for his interview. Unfortunately, he wasn't hired, but the B&Q team kept talking to his job coach about creating a role for Tony there.
In the meantime Tony kept looking for work, and started volunteering in the warehouse of a local charity shop, which helped boost his confidence.
Then they heard back from B&Q – they had the perfect vacancy for Tony!
A new job – "It feels like going home"
He applied with the support of his job coach, and this time he was successful. In July 2018, Tony began his part time job as a car parking assistant, helping customers and making sure the car park is safe. "I can't believe it, it feels like going home" Tony said.
Tony's job coach kept supporting him while he was working. They also helped B&Q make reasonable adjustments to make sure Tony could do well at work. For example, they made sure Tony had a buddy on every shift so he knew who to go to if he needed help.
Soon after starting at B&Q, Tony won their employee of the month award.
Working during Covid-19 – "I am enjoying being able to stick to my routine"
Tony is still working at B&Q, now as a key worker during the coronavirus pandemic. They have stayed open for people collecting their online orders, so the car park is busy and Tony's role is vital.
We got in touch with Tony to make sure he had been given the right PPE and understood how to stay safe. Tony and his family were happy to hear from us and let us know B&Q were being very supportive. Tony is happy to be at work and confident keeping himself, his family and colleagues safe.
Tony is doing well. He says: "I am enjoying being able to stick to my routine and have even been getting some overtime too".
We are staying in touch with Tony throughout the pandemic to make sure he and B&Q have the tools they need for him to do well at work.
Find out more about our supported employment services here.