Working with The Centre for Social Justice to influence the Government's National Disability Strategy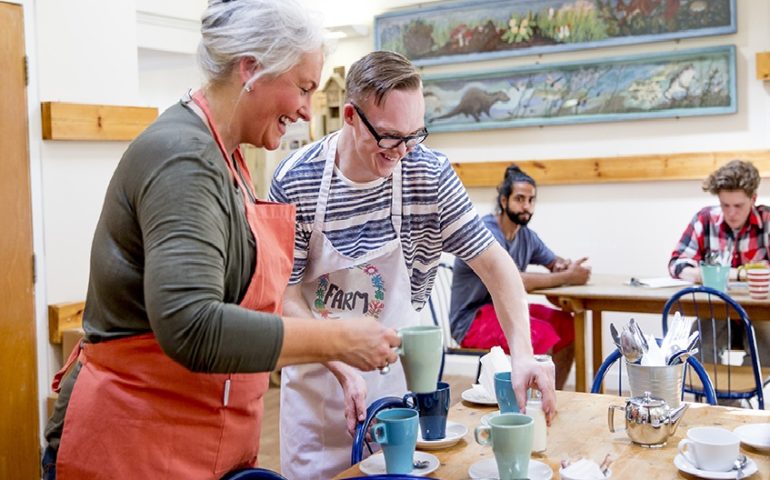 Last week United Response hosted two 'virtual visits' for the Centre For Social Justice (CSJ) Disability Commission. The Commission's remit is to investigate current barriers and the lack of equality still experienced by disabled people today, 25 years since the disability discrimination act.
As the leading Conservative Think Tank on social justice, including for disability issues, the CSJ has the clout to speak to the Government and influence its new National Disability Strategy due for next spring. We hosted the visits, to feed in our thoughts, and those of people we support so the CSJ could take them right to the very top.
Showcasing our groundbreaking employment support in York
In 2017 United Response collaborated with the CSJ on employment support for people we support. We asked the Government to trial pilot schemes of locally based supported employment provision, delivered in conjunction with local authorities, which we believed could dramatically improve employment outcomes.
Government listened and United Response successfully delivered a pilot scheme in conjunction with DWP and The City of York Council. We tested this model for people with learning disabilities as the most marginalized group within the disability employment gap with a 6% employment rate.
The scheme delivered in York achieved an astonishing 26.8% employment rate for people we support, over 21% higher than the national average. Since the scheme the service now boasts over 50% of people we support have entered paid employment.
On Monday, Ramsay, who ran the scheme for United Response, spoke to the Commissioners about the scheme, its success and the impact it had for people we support:
Jamie's success securing a job with Yo Sushi
Joining Ramsay was Jamie, someone we supported on the scheme. United Response worked with Jamie to identify support and training needs to help him get into the catering sector. Jamie's Job Coach approached Yo! Sushi after a number of job adverts had been posted over a short period of time. We worked with Jamie and Yo Sushi to design a role which was suited to what Jamie can do whilst fulfilling a business need. A job Jamie still enjoys today, and is happy to be back after being furloughed during Lockdown.
Manifesto for a better normal
On Thursday, David Barker MBE, our area manager for the North East and Cumbria hosted another virtual visit for the CSJ Commissioners in Darlington, along with Tess, someone we support who is one of our Quality Checkers and a mental health advocate.
The Commission heard about the recently launched Manifesto for a better normal which David was instrumental in creating, along with Richard Boggie from Difference North East who was also on the call.
The manifesto seeks to take stock on disability issues, to find a better norm, following the 'new norm' we are all experiencing with CV19. David spoke about how now is the time to take stock, learn from our mistakes and plan for a fairer, better normal for disabled people.
Hoping for a better future
We look forward to seeing the results of the CSJ's submission to Government. More than this, we hope, 25 years after the Disability Discrimination Act, the National Disability strategy to be published next year, will really be an action plan for tangible, measurable progress for people we support and for all disabled people. We want a strategy which brings genuine inclusion, real opportunities and properly integrated local communities; something that everyone in society can get behind.
Donate here and help us make life better for people with disabilities.