Young people with disabilities become radio DJs in Manchester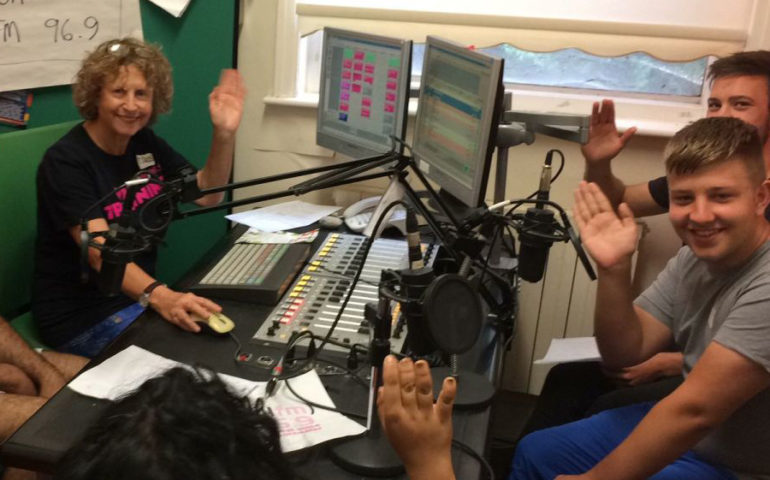 Young people with disabilities hosted their own radio show on Manchester's All FM 96.9 last month.
Eight young adults were supported by United Response to take part in a Short Breaks service, organised with Manchester City Council.
"We had a lot of fun," says Emily Collins, a Job Coach who was involved. The two week programme, aimed at people up to the age of 25, had a whole programme of activities. "Some days were focused on gaining independence skills, like travel training and cooking, and other days focused on finding jobs and gaining confidence to speak out. There was also a day doing raft building and kayaking."
On the day of the radio show, the young adults prepared by making their own radio jingle, and interviewing each other. "At the beginning, a lot of people were like 'We don't want to speak, we don't want to go on the radio,'" says Emily, when describing some of the challenges they faced. "They felt a bit shy and were worried about memorising the things they had to say." But through practice and the help of support workers there to prompt them, the show was a big success.
The young DJs – DJ Suzi, DJ Rock, DJ Anime, DJ KC, DJ Fletch and DJ Tabz – all got to choose their own songs to play during the show, which included an eclectic mix of music from Bollywood and One Direction, to Oasis' Wonderwall. "They also got to do shout-outs to their family, carers and friends – I think they really enjoyed that."
The experience of hosting a radio show seemed to have a big impact on the young people who took part, with their confidence growing. "I think they were very proud that they'd done it," says Emily, "and I think they realised the key was to just have fun with it and just be themselves."
Short Breaks is an important service for both the young people with disabilities and their families, and the hope is that these kind of services can continue in the future. "It's a really valuable thing for young people to do during the holiday period. Plus, some friendships definitely blossomed."
Listen to the whole radio show: