Zoo day brings confidence to people in Ipswich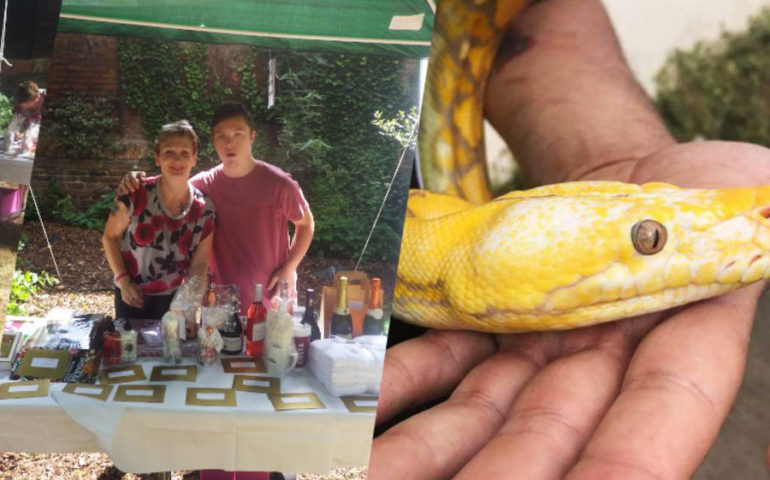 In the early summer of 2018 our deaf services in Ipswich held a garden party with a difference. Amongst the guests were snakes, lizards and parrots!
We support five people aged from 34-54 years old in a service in Ipswich, all of whom are profoundly deaf and have learning disabilities, as well as other health conditions. All the residents of the service love animals and were keen to learn more about them. Together they came up with the idea of bringing animal experts and their animals to their home as part of a 'Zoo Day' experience.
The people we support wanted to be involved in the project from the start. They helped create posters and signs and went into the community to give out flyers to local businesses. On the day of the party they were keen to get involved and helped with the setting up of the barbeque and the running of the raffle.
Meeting the community
Over one hundred people from the community attended on the day. The local scout group lent a hand with erecting gazebos and local volunteers offered face painting. Children from the nearby deaf services came along to enjoy the day and people we support from other services also joined in. Neighbours, friends and family joined the party and for many it was the first time they had met each other or visited the service.
The zoo exhibition was provide by staff and volunteers from a local animal sanctuary. They brought along mammals, parrots, reptiles and amphibians and provided a short, informative talk about all them. People were shown how to handle some of the animals and many people took the opportunity to hold them. The people we support enjoyed teaching everyone the British Sign language for the different animals.
Improving self-esteem
"It gave people we support the chance to mix and socialise within their community, show off their skills and give them confidence," said Josie Hartley, one of the support workers who helped to organise the event. "It enhanced their feelings of good self-esteem and being part of the community."
The event was a great success and many lasting friendships were made. Since the event, the people we support have been invited to other events and their social circle has grown.