Benjamin's story: My volunteer work placements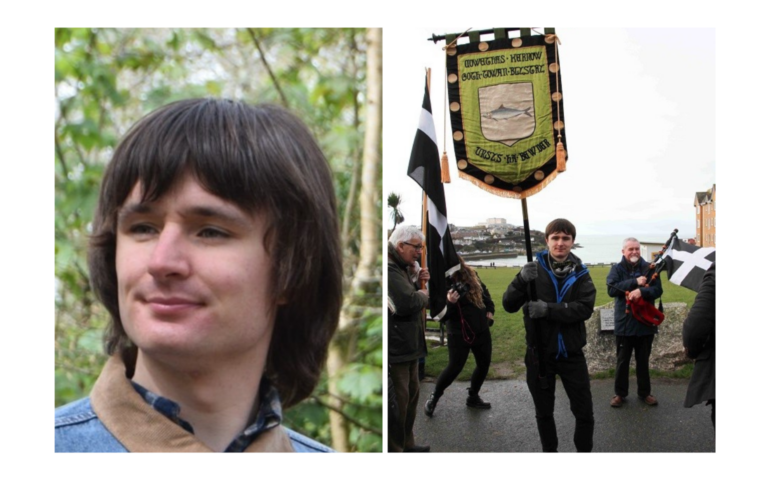 Finding work that suits
I started work experience placements in 2016. First I worked at Subway for a morning. It was a busy place which did not suit me because I found it stressful. This helped me learn that I am suited to quiet places.
Luckily United Response found me a volunteer placement in Newquay Heritage Museum, where I could work in a quiet place with people who understand my autism.
Learning new skills
In August 2017, I started working as a volunteer in Newquay Museum on Thursdays and Fridays. I learnt how to archive different events and history in a Microsoft spreadsheet. I worked through the files adding the information in a spreadsheet. I then learnt how to use Curator to update the database and adding new entries. Curator is a Newquay Heritage Archive and Museum software.
The boss of Newquay Museum includes me in guided walks and trips to discover historical places in Cornwall. They have also encouraged me to take photographs – which is one of my hobbies – to add them to Cornwall's history at the database in Newquay Museum. I enjoy this bit of variety.
I am always included in local events and I am encouraged to take part in them. Sometimes I find it difficult and other times I manage it.
Becoming an Easy News consultant
In 2018, as well as continuing to volunteer at the museum, I also started work as a Consultant for United Response's Easy News.
This involved rewriting news stories happening in the world but in a condensed easy-read format for people with learning disabilities and autism. I also did interviews with other people for jobs at United Response.
In addition, I have been the bearer for the 2018 – 2020 St Piran's Day Parade and the Gorsedd. I held the Newquay Old Cornwall Society Flag as I marched through Newquay in the Parade. I went to Lanyon Quiot and Penzance near St Michael's Mount where I took photographs.
I also went to the Fish Festival to take photos; and I resumed my work for the Museum continuing my archiving on Curator.
The Covid pandemic and volunteering
2020 is the year I started at Newquay Orchard which is a community garden in Newquay.
Then I also started volunteering at Age UK in Truro. I enjoyed this as I had some quiet space and I could ask Tillie for any help if I needed.
After work I would go round town, do some shopping and have a cup of tea. It was a balanced day for me.
It was going normally until…
On Monday 16 March 2020, when the world went into lockdown, all volunteering ceased.
I have been unable to return to Age UK since – there is no role for me there now.
Gardening, horticulture and archiving
Despite the pandemic, Newquay Orchard would let us go back as volunteers one afternoon a week.
I go to the Orchard on a Tuesday afternoon every week to do some gardening and horticulture there. As a volunteer they offer us extra activities and workshops which are good for our mental health.
I can work both in a group and on my own. I like weeding, loading up the wheelbarrow and taking things to where they need it. I also enjoy my breaks for a cup of tea!
Then I restarted Newquay Museum and continued my archiving there.
August 2021 was the Gorsedd at Bude again – this time on a really hot day. I did my photos of the procession in the heat.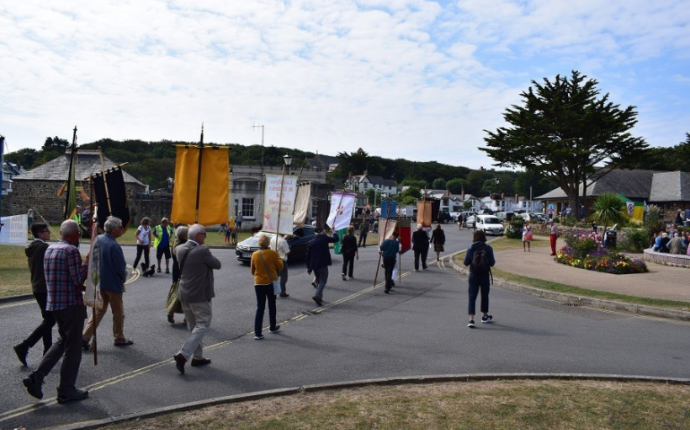 Powerpoints and Bio-Danza
In January this year, I talked to Len from United Response about how the Museum has been very supportive, helping me throughout the volunteering and growing as a person.
I started work on a PowerPoint about my experience, with some feedback and alterations from Len and proof reading the PowerPoint in my own time. Then I premiered the PowerPoint at United Response's local offices and the reception was positive.
The following day, I started doing Bio-Danza at Newquay Orchard every other Thursday, which is dance with people while salsa and jazz music plays in the background.
Sometimes I find the music hard and I require times to go out but when I finish my session, I wish it would go on forever.
Yoga and Blystra Arts
Earlier in 2022, I started doing my yoga sessions at The Orchard on a Thursday Morning.
I enjoy these sessions because they are very relaxing, help me find my inner peace and I get to learn different yoga poses throughout.
In June 2022, Newquay Museum worked with Blystra Arts to do the 'Snapshots in Time' event. We did a mini-film around Newquay. After filming, we brought the footage to be edited, then sent it off to Blystra Arts for the short films to be edited into a finished film.
My film was the 'Retro-Styled Tourist Guide' with a theatre-performance style opening. You can watch it here.
The final event on 24 June went really well because everyone's films and their experiences while filming were put together into a film, which was shown in front of an audience .
My confidence is up and I'm ready for more
My volunteer work has really helped me with my confidence and social interaction and so I would like to look for other voluntary placements.
I feel comfortable enough to give it a try but I am finding it very hard to find anything.
The type of volunteer placements I am looking for now are environmental work or archiving modern events in a comparable placement to Age UK and the Newquay Heritage Museum.
Benjamin Webster is a media contributor for United Response.

His hobbies include photography, computers, cooking, film-making and drama.