CookABILITY is back for Christmas, with accessible video recipes for festive favourites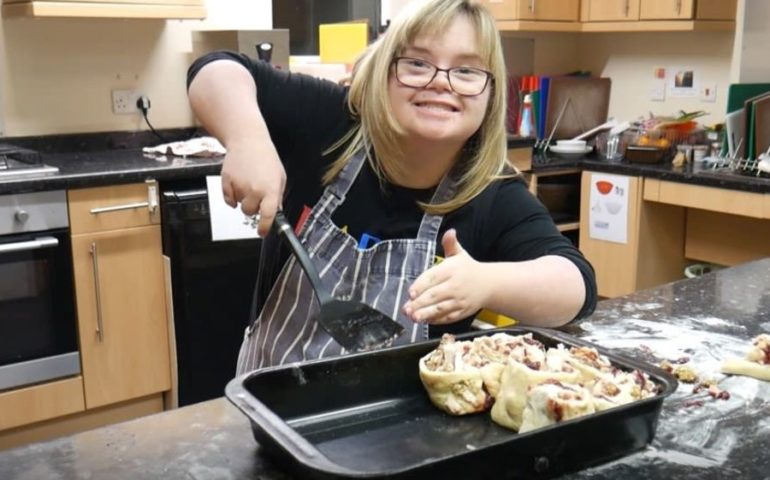 A popular video project encouraging people with learning disabilities and autism to cook for themselves is back this December with a six-part special showing how to cook Christmas meals and festive treats in easy-to-follow steps.
National charity United Response's pioneering CookABILITY project, which first launched in December 2018, is a YouTube series of accessible recipe videos made by and for people with learning disabilities.
Last year's debut series of twelve videos set out to tackle obesity in people with disabilities and featured easy-to-understand videos for healthy meals including spaghetti bolognese, chilli con carne and quorn paella.
The new recipes in this year's Christmas special are a more indulgent take on the original series, and aim to give people with learning disabilities and autism the confidence to cook and enjoy seasonal food. Recipes will include giant pigs in blankets, turkey and stuffing Chelsea buns, mince pies and chocolate treats.
The CookABILITY videos – all hosted by and starring people with learning disabilities – can be viewed on United Response's YouTube page. The new recipe videos for the Christmas series will be broadcast in the weeks leading up to Christmas. Two of the six videos are already online.
The new series will also include individual 'skill videos' which break down key kitchen skills and cooking techniques such as basic knife safety, chopping an onion and kneading dough.
The team behind the project are aiming to reach out to thousands of people supported by United Response across the country but also hope to reach many others with disabilities.
Bex Gingell, Senior Service Manager for United Response in Devon, said: "Home-cooking a meal from scratch can seem daunting for people with learning disabilities and many will often choose the easy, sometimes unhealthier, option. We want to empower the people we support to make informed and independent choices about the food they cook and eat.
"That is why we're bringing people with learning disabilities together this Christmas and equipping them with the tools and knowledge to cook with friends and family in confidence.
"But CookABILITY is not just about ease and accessibility, it's also about tackling isolation. Our latest series demonstrates how Christmas is as much about letting your hair down and cooking comfort food as it is spending precious time with loved ones."
Videos were recorded at United Response's ROC Wellbeing service in Devon. The service also offers people with learning disabilities the chance to learn new and exciting skills and to gain accredited learning qualifications at the same time. ROC has been previously known as Robert Owen Communities.